ACADEMIC SUMMER, TAUNTON
Where Skills Meet Passion: Shape Your Future with a Productive Summer
About the Programme
Academic Summer in Taunton is hosted by Queen's College, a traditional boarding school in Taunton, that feels like you have entered a 'Harry Potter' film set.
Our engaging academic camps inspire and challenge young minds, allowing them to discover new passions, sharpen skills, make friends from around the world, and develop essential communication skills.
We provide an inspiring learning environment through interactive activities and hands-on learning, offer a challenging curriculum that encourages critical thinking, foster a global community of learners for cultural insights, and have dedicated teachers passionate about inspiring young minds.
Our diverse academic camps include science, English, public speaking, debating, sports, STEAM, maths writing, robotics, performing arts, food and nutrition, yoga, entrepreneurship, dance, art and design, outdoor education, and environmental impact.
Taunton, a charming market town just 90 minutes from London, provides the perfect backdrop for a summer of learning and fun. Join us at Academic Summer in Taunton and let your imagination soar!
LOCATION
Taunton
Join us in the summer and experience the enchantment of Queen's College, a prestigious and forward-thinking boarding school in Taunton.
Queen's College is located in the charming market town of Taunton in the beautiful South-West of England. Taunton is renowned for its rich cricket heritage and famous cider. A short drive to the west, you'll find the historic city of Exeter, known for its stunning cathedral and Roman history, which still has much of its city wall to explore. To the south, Plymouth offers a captivating maritime history, with landmarks like the Royal Citadel and the Mayflower Steps, that mark the departure of the Pilgrims to the New World.
The North Devon Coast is not far from Taunton and boasts some of the UK's finest surfing beaches. On the South Coast, you'll find stunning coastal resorts, such as Torquay, Exmouth and Dawlish, famous for their quaint charm. The best part is London is just a 90-minute train ride from the centre of Taunton, making the capital easy to reach.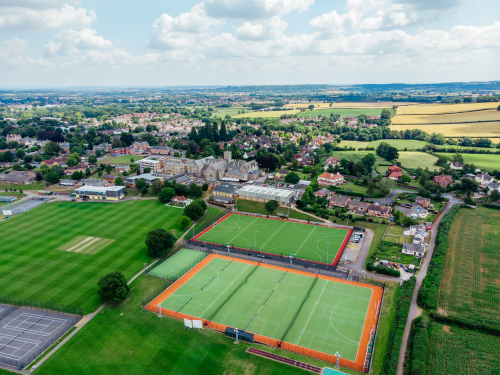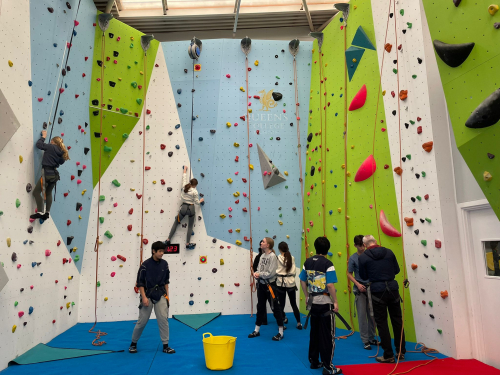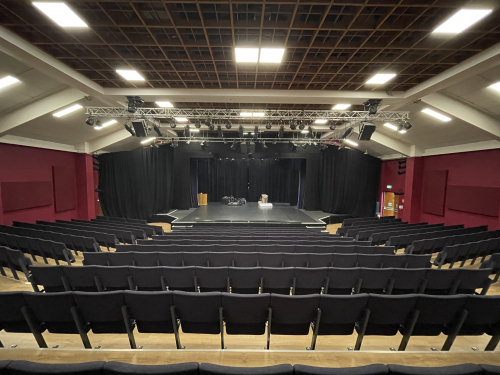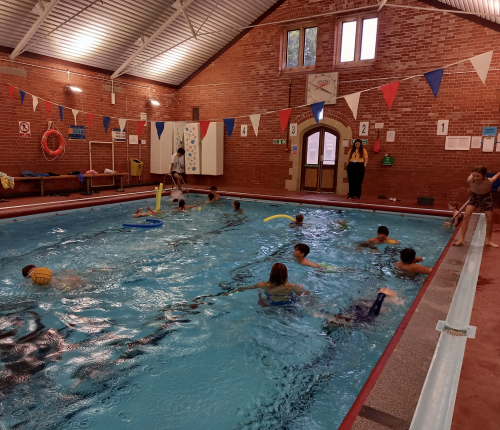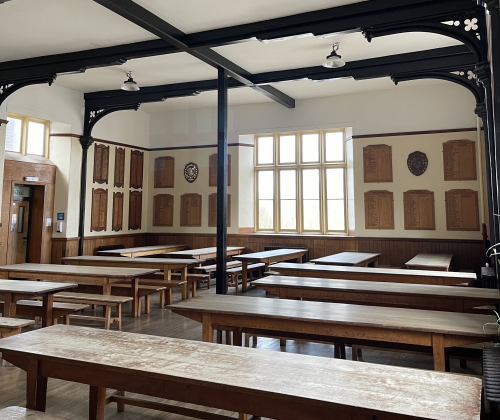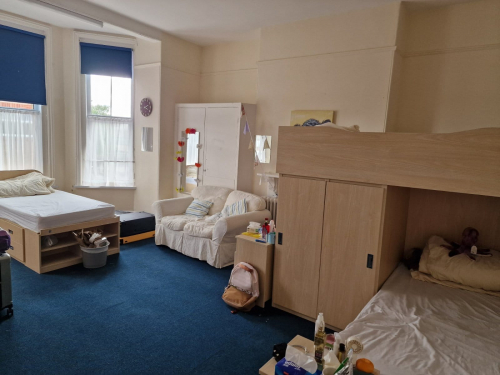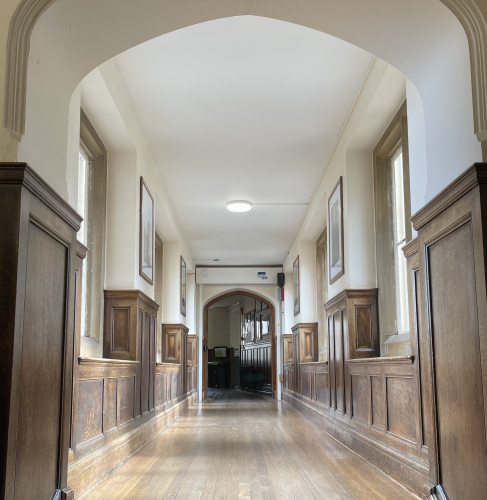 ACCOMMODATION
Queen's College Taunton
Your home for the summer has everything you need - modern classrooms, outstanding sports facilities, excellent and comfortable boarding accommodation. The school has an impressive 570-seat theatre, tennis courts, a sports hall, a gym, an indoor swimming pool, astroturf pitches and a climbing room.
The boarding houses are on campus and we use School House, Hutton, Highrove and Cotlake. Most bedrooms are for two or three other students with shared bathrooms in the corridors. Adventurers have the opportunity to stay in larger dormitories in Cotlake House so a great chance to make lots of friends. The boarding houses have comfortable common rooms and kitchen areas for relaxing and making snacks. We always try to room you with someone from a different country so you can keep practising your English even at bedtime!
You will eat in the school dining room and every meal is different and nutritious. You'll even enjoy theme nights where you can try food from around the world and BBQs.
ACADEMIC
Explore and Engage in Learning and Unlock New Skills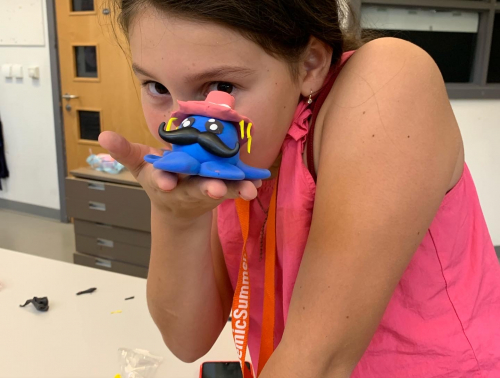 Camps for Young Learners aged 9 to 12
We'll unlock the power of joyful learning in our young learners, where progress is effortless and exhilarating. Fuelled by Adventurers boundless curiosity, we encourage them to seek new experiences and grow in confidence.
We foster a supportive and nurturing environment that ignites their desire for exploration, making learning an adventure. We want every moment to be a stepping stone towards their Personal Best, as we celebrate their achievements and successes.
Adventure Camp / Outdoor Leaders
Our young learning experience is the great outdoors. They participate in team multi-sports, bushcraft, climbing, archery and orienteering activities. They develop their creative thinking, problem solving, independence, communication and teamwork skills through games and play. It's all about enjoyment, positive challenges and the spirit of play.
Arts and Crafts Camp
Art helps young learners communicate visually about how they see and experience the world and how they feel about it. It gives them the freedom to create something unique, developing the skills like creativity and imagination. Our Adventurers will experiment with mediums such as watercolours, chalks, acrylic and pastels, and explore various forms like drawing, painting, illustration, tie dye, sculpture, crafting and pop art.
Food and Nutrition - The Foodie Camp!
Our Foodie Camp is for budding young food enthusiasts! It is not just about cooking, but also exploring healthy eating and the science behind food. We will create delicious food together and master the art of baking. Adventurers will explore various cuisines, learn about traditions from around the world, and even participate in friendly cooking competitions. It is a week-long celebration of savouring and sizzling, where every bite brings together the delicious trip of food, fun and friendship.
Performing Arts Camp
Adventurers will explore their artistic and creative side, immersing in dance, drama and music. We provide them the tools to think and act creatively, explore their body and emotions, boost their imagination and confidence and develop their unique self-expression voice. Our engaging and fun activities encourage them to appreciate cultures, make friendships and build collaboration and teamwork skills.
STEAM Camp
Our STEAM (Science, Technology, Engineering, Art and Mathematics) Camp offers a dynamic platform that fosters creativity, resourcefulness and an understanding of the impact of technology. At the heart of activities lies curiosity and imagination, empowering our Adventurers to create innovative solutions and bring their ideas to life. We merge the exciting worlds of Science, Technology, Engineering, Art and Mathematics, offering a holistic learning experience that encourages young minds to explore, experiment and collaborate. It's a space where our young innovators flourish and where the boundaries of knowledge are pushed.
Camps 2024
WEEK
CAMPS

Week 1

15 July 2024

Adventure Camp - Have fun, keep fit and have an adventure. Team sport, bush crafts and team building

Week 2

22 July 2024

STEAM Camp - Have fun with Science, Technology, Engineering, Art and Mathematics

Week 3

29 July 2024

The Arts Camp - Develop your artistic side including performance, dance, music as well as arts and crafts

Week 4

5 August 2024

STEAM Camp - Have fun with Science, Technology, Engineering, Art and Mathematics

Week 5

12 August 2024

Adventure Camp - Have fun, keep fit and have an adventure. Team sport, bush crafts and team building

Week 6

19 August 2024

STEAM Camp - Have fun with Science, Technology, Engineering, Art and Mathematics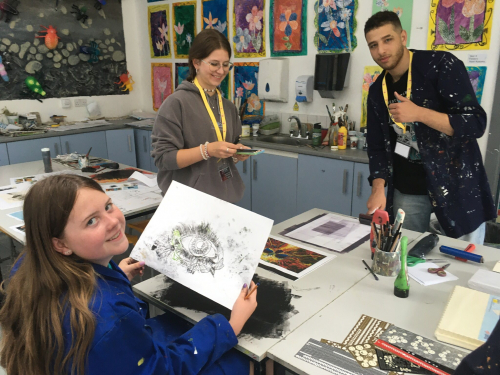 Camps for Learners Age 13-16
Get Ready for an exciting and inspiring learning adventure in Taunton this summer. You'll choose your weekly camp, allowing you to tailor your experience to your unique interests and passions. Each day is a new project, with a daily outcome that keeps you engaged. Over the four days, you'll engage deeper, honing your subject-specific skills, enhancing your critical thinking, and fostering self-sufficiency in your learning journey. As well as enhancing your content knowledge in your chosen subject area, you'll also improve your communicative language skills.
We redefine how you learn, prioritising enjoyment and personal growth over the traditional classroom. Our approach encourages you to embrace your imagination, nurture your creativity, stay active, and embark on an exhilarating learning journey that will prepare you for the future.
Adventure Camp
Get ready for the ultimate adventure. We've covered everything from team sports and challenging climbing sessions to mastering bushcraft skills, survival techniques and boosting fitness levels. Our campers will embrace the great outdoors and build resilience, teamwork. leadership, and self-confidence while facing challenges. Join us for a week of unforgettable experience where the spirit of adventure knows no bounds and lifelong skills are learned
Academic Skills Camp
Sharpen your critical thinking, essay writing, presentation and interview abilities. Cultivate the power to analyse, express and impress as you enhance your academic prowess. Whether crafting compelling essays, answers to exam questions, delivering captivating presentations or acing interviews, this camp will empower you with essential skills for success. Elevate your academic journey with us!
Art and Design Camp
Art is vital in education and self-expression, fostering cognitive, and social perceptual skills, confidence, problem-solving, and collaboration. Join our art and design camp to explore various art mediums and unleash creativity—experiment with mediums such as textiles, sketching, 3D, and painting. Visit real artists and art galleries to reach new creative heights, as well as enjoy art workshops and visiting artists.
Debate Camp
Dive into the world of persuasive rhetoric, parliamentary procedures, mock trials and Model UN simulations. You write resolutions, engage in lively debates and fine-tune your argumentative skills. The camp culminates in an exciting debate competition, where you will put your newfound skills to the test. Join us for an unforgettable journey of eloquence and persuasion!
English Camp
Step into the world of English mastery! Immerse yourself in the art of effective communication, refine your grammar, explore the depths of literature and unleash your creatively through the magic of creative writing, poetry and storytelling. Dive into the fusion of language and technology, harnessing the digital tools to enhance your language skills. Join us for an enrichin experience where language comes alive and your English proficiency soars to new heights!
Entrepreneurship Camp
Entrepreneurship is the process of creating a new business venture. They identify a need in a market, develop a product or service to fill that need, and create a plan to bring to the market. On our Entrepreneurship Camp, we will delve into this topics. You'll learn from experienced teachers and industry experts, and have an opportunity to network with other entrepreneurs!
Food and Nutrition - The Foodie Camp
Indulge your taste buds and ignite your culinary creativity at our Foodie Camp! The delectable adventure combines the joy of well-being with a deep dive into healthy eating habits, designing delicious meals, understanding the science and mastering the art of baking. Campers will embark on a journey as they explore diverse cuisines, compare culinary cultures and engage in friendly cooking competitions to celebrate their newfound skills. Join us for a week of savouring and sizzling, where every bite celebrates food, fun, and friendship.
Performing Arts Camp
You'll engage in your artistic and imaginative side. The camp is perfect for those with a passion for all aspects of Art performance, including acting, dancing, singing, public speaking and presentation skills, stage design, composition and group performance. It offers a creative avenue to discover your creativity and cultivate your self-expression. This opportunity is great for honing your language and performance skills; broadening your academic knowledge in the Arts.
STEAM Camp
The STEAM camp is perfect for learning about how the world works. This camp is excellent for budding engineers, software designers, or anyone interested in the exciting areas of STEAM (Science, Technology, Engineering, Arts and Mathematics). You'll gain practical experience through hands-on learning and problem-solving. You'll learn about AI, programming, robotics, architecture, mechanics, technology and much more. Join us and develop your skills to be our future innovators!
Camps 2024
WEEK
CAMPS

Week 1

15 July 2024

Performing Arts Camp

STEAM Camp

Academic Skills Camp

Week 2

22 July 2024

Entrepreneurship Camp

Adventure Camp

Art and Design Camp

Week 3

29 July 2024

English Camp

Food and Nutrition - Foodie Camp

STEAM Camp

Week 4

5 August 2024

Debate Camp

Entrepreneurship Camp

Week 5

12 August 2024

Performing Arts Camp

STEAM Camp

Week 6

19 August 2024

Academic Skills Camp

Food and Nutrition - Foodie Camp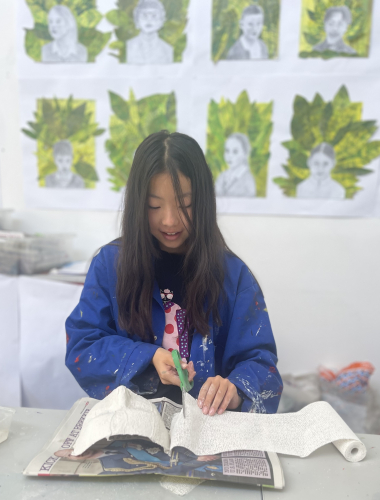 Join us and Prepare for Boarding
At Academic Summer, we are dedicated to nurturing a positive and empowering transition for you into the world of boarding schools. Our team of friendly and empathetic staff understand the pressures and apprehensions that come with such a big change. We are committed to working closely with you to ensure you are fully prepared for the exciting challenges that lie ahead. For those joining Queen's College, Taunton in September, our programme offers the added advantage of becoming familiar with the school, which will give you a confident head start. We are dedicated to nurturing your growth and success in this new and exciting chapter of your educational journey.
Fill in the Gap with Living Learning English
Continue your learning experience with Living Learning English (LLE) after Academic Summer finishes for the summer on Sunday 25th August 2024. We have collaborated with LLE to ensure a smooth transition between the end of Academic Summer and the start of the term with your new school. You'll be welcomed into your friendly teacher's home. We'll even send your summer reports to your teacher so they know what you need to work on. Plus your exclusive package will include visits and activities with your teacher's family.
To book, choose the "Extended Week" on our application form. It's that simple! We will make the arrangements with Living Learning English and co-ordinate everything. The extended week will run from 25 August to 1 September. We can also arrange transfers to your host family and on to your boarding school after your LLE week - these are charged as extra. Let us know how we can help you!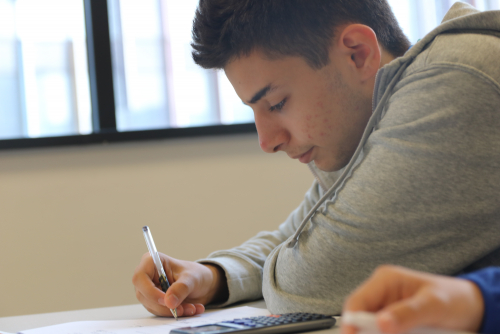 CLIL APPROACH
Our teaching and learning approach is centred around Content and Language Integrated Learning (CLIL) which gives a holistic approach to learning. Experts have described CLIL as a significant methodological revolution in language teaching. 
According to Coyle (1999), the CLIL curriculum is based on the four Cs:
JOIN US AND UNLOCK THE BENEFITS OF CLIL:
Enhance your  Content  knowledge in key curriculum topic areas in your chosen subject areas
Develop your  Cognition  skills. You'll develop your critical, logical and creative thinking abilities, as well as learn to analyse data, engage in discussions, form your own opinions and collaborate effectively
Work on your  Communication  skills. You use language to learn whilst learning to use language. You will learn to give a good presentation and write an extended essay, which is essential whatever you study
Understand  Culture  and your role as a global citizen, your beliefs and values enabling you to develop a reflective knowledge base  
You will develop your communicative use of English as an international language and academic language proficiency, whether you are a native or non-native speaker of English.
Leisure Programme 2024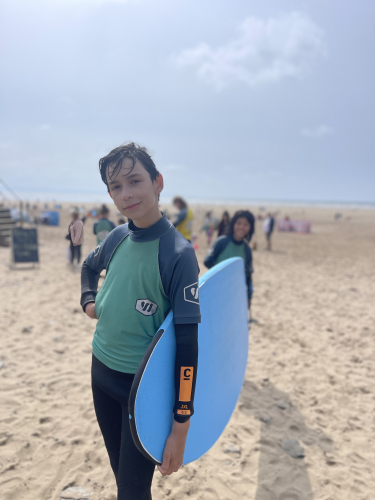 We believe in crafting a memorable summer experience beyond the classroom, enriching your life with skills and memories that will last a lifetime. Get ready for an extraordinary leisure programme that will have you falling in love with England in a whole new way! We've carefully curated a series of unique and captivating trips that will take you through the heart of England's most iconic destinations, blending fun and adventure with must-see attractions. At Academic Summer, we value your weekends as much as your weekdays. That's why our camps run Monday to Thursday, leaving you with three full days at the weekend for thrilling excursions.
No visit to the UK would be complete without experiencing the vibrant energy of London. Taunton is only a 90-minute train ride to the centre of London, so that you will be there in no time! Dive into the world of culture and history as you explore world-famous museums, indulge in luxury shopping at Harrods, immerse yourself in art at the National Gallery, and take in the iconic sights of the Southbank - Shakespeare's Globe, Tate Modern, the London Eye and Tower Bridge.
Devon and Somerset in the South West of England is an area of unparalleled natural beauty. Here, we'll embark on thrilling hikes through Dartmoor's Lynford Gorge, a geological wonder steeped in myth and legend. Devon, boasts some of the UK's most breathtaking beaches. Our visits to Dawlish Warren and Exmouth will provide you with a sun-soaked beach day. For thrill-seekers, test your mettle with surfing and water sports at Wake Park. And if adrenaline is your thing, prepare for a heart-pounding adventure at Thorpe Park, one of the UK's most beloved amusement parks.
History buffs, rejoice! Our region is a treasure trove of historical landmarks, from enchanting castles to picturesque gardens once inhabited by English gentry. Be captivated by the exquisite 19th-century Knightshayes and let history come alive before your eyes.
Join us in the summer for an exciting adventure!
Be a Leader is an integral part of Academic Summer experience on the Queen's College campus, where academic enrichment meets leisure in perfect harmony. The two-week course equips you with leadership and teamwork skills in an exciting, enjoyable and educational environment leading to a CPD qualification. a testament to our unwavering commitment to excellence.
Throughout the programme, you'll have an opportunity to Meet a Leader - accomplished individuals from diverse fields who share their personal journeys to success, inspiring your own dreams. Be a Leader facilitates self-discovery by assessing your skills, through psychometric, aptitude and career tests, resulting in a personalised 'My First Choice' (age 11-13) 'My Career Choice'(age 14-18) report that will serve as your compass for future decisions.
Your daily routine includes exploring essential leadership skills such as communication, negotiation, change-management, influence and confidence. These are introduced in morning assemblies and then developed through practical application with your teachers and camp counsellors. Expect an array of engaging activities including, bushcraft, orienteering, and the exciting and fun camp team games at the end of the afternoon before the local students go home.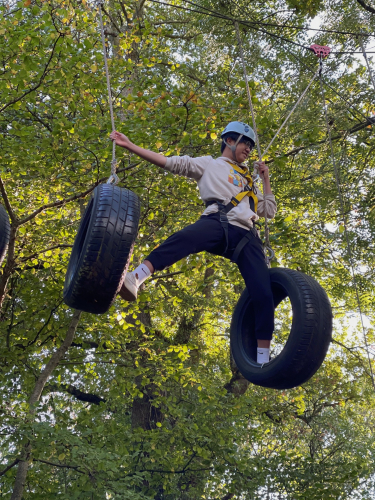 BOARDING STUDENTS
Age 10-16
Sunday 14 July to Sunday 25 AUGUST 2024
£3,100 / PER TWO-WEEK COURSE
Includes tuition, teaching materials, accommodation, meals, insurance, laundry, airport transfers, trips and activities
DAY STUDENTS
Age 9-16
Monday 15 July to Thursday 22 AUGUST 2024
£45 / PER DAY (£125 / PER TRIP)
Monday to Thursday (08.15 to 17.15) and includes morning assembly, camps, lunch and team games. Trips can be booked for Fridays
What are the payment terms?
For day students, full fees should be paid five weeks before the camp starts or if booking is later than five weeks, full fees should be paid on booking your child's place.
For boarding students, an initial payment of £500 should be made to secure your place, and the final payment is due at least five weeks before your summer camp starts.
Once paid, fees are non-refundable. Please refer to our Term and Conditions for more information.
Are there any extra fees?
These extra fees relate to boarding students:
Booking Changes: If you find the need to modify your booking, a £50 administrative fee will apply.
Arrival and Departure Transfers: Our published arrivals and departures are designed to optimise your experience. Should you arrive or depart outside our advertised transfer window, or to an airport other than Heathrow please be aware that transfer fees will apply as follows:
Luton/Stansted/Gatwick: £510 each way
Heathrow (out of transfer window): £410 each way
Bristol Airport: £150 each way
Bristol Train Station: £150 each way.
Arriving or departing directly to campus out of hours/not Sunday: £150
Unaccompanied Minors (arriving/departing outside of our transfer window): £50
Contact our team for more information.
Extra nights: £150 (subject to availability, transfer not included).
Trips: £125 per day (days students or those attending the trip on arrival/departure day).
How do I make a payment?
Once you book a place using our online booking form you will be sent an invoice with various payment options. Choose the option that works best for you.
TransferMate
TransferMate is free to use with no additional bank charges applied to your transfers. This service provides competitive currency exchange rates and allows you to pay in your preferred local currency. Please log in to our portal for more information and to make a payment using TransferMate.
TransferWise
TransferWise is a straightforward method for making international payments while minimising bank charges. To get started, follow these steps.
Visit www.transferwise.com
Log in or create a new account
Transfer funds from your bank account or debit/credit card to our designated account.
Bank Transfers
You can make a bank transfer to us. You will find our bank details on your invoice. When making any payment please ensure you quote the student's name and/or invoice number as a reference so we can trace your payment. Please allow for bank charges within your payment.
Credit Card Payments
Credit card payments can be made through our online portal. Sign into your account and click "checkout" to make the payment. You can also contact info@academiccamp.org for your unique payment link.
Insurance
We provide comprehensive insurance to students travelling to the UK from other countries as part of our fees. Insurance is provided by Endsleigh.
Please note that day students and students already living in the UK will not be covered by this policy.
The policy covers emergency medical costs and assistance; cancellation and curtailment; loss, theft or damage of personal belongings and cash.
Key Features
Cancellation or curtailment cover
Medical emergency cover including dental, medical, repatriation and a 24hr emergency helpline
Lost or stolen baggage
Lost or stolen money or passport
Missed departure
Reimbursement of irretrievable pre-paid course fees
Key Exclusions
No cover if FCO or WHO advises against travel
Travel must be to/from your home country
Not available to those aged 66+ at the time of departure
You must be registered with a GP in your home country
No cover for baggage left unattended
You must make us aware of any pre-existing medical condition
No cover if you fail to hold, obtain or produce a valid passport or visa in time for the trip
No cover for any claims arising from the use of drugs or alcohol
No cover for any reason set out under "Important conditions relating to health" in group policy wording.
Table of Benefits
The following table is a summary of cover. Group policy is subject to terms, conditions, limits and exclusions- please refer to the relevant section in the group policy wording for more details. The amounts set out below are the maximum payouts under each section per beneficiary per trip unless otherwise noted in the group policy wording.
Benefits
Maximum Amount
Excess

Cancellation or curtailment charges

Aggregate limit

Excursions

£3,000

£50,000

£250

£50

Emergency medical and other expenses

Emergency dental treatment

£2,000,000

£500

£50
Private medical cover
no cover

Personal accident

Death benefit (aged under 16)

Death benefit (aged 16 to 64)

ii. Loss of limbs or sight

iii. Permanet total disablement

£1,000

£30,000

£30,000

£30,000

£0

Baggage

Baggage (including valuables)

a) Single article, pair or set limit

b) Valuables limit in total

£1,000

£200

£300

£50

Personal money, passports and documents

1a) Currency, notes and coins

b) Other personal money and documents

2. Passport or visa

£100

£100

£500

£50
Personal liability
£1,000,000
£100
Missed departures
£250
£50

Overseas and legal assistance

Aggregate Limit

£10,000

£50,000

£0

Course fees

Professional counselling

£8,000

£300

£50
Please find details below:
You can find the translated policy summaries in the following languages: Arabic, French, German, Italian, Japanese, Polish, Portuguese, Simplified Chinese, Spanish, Thai, Traditional Chinese, Turkish, Vietnamese. Please take note that these summaries do not act as any of your legal binding documentation for the insurance, they are just a summary of what the cover includes.
All claims will be subject to a £50 excess.
Cancellation cover starts as soon as payment is received for course fees. All other cover starts as soon as you leave home for Academic Summer and ceases when you return home (please note if you do not return home immediately after your Academic Summer course you will not be covered for an extended stay).
For a fee, parents and group leaders travelling with their children can be added to the declaration. Please contact us for more information. info@academiccamp.org.
Endsleigh Insurances Services Limited is authorised and regulated by the Financial Conduct Authority. This can be checked on the Financial Services Register by visiting its website at HTTP://register.fca.org.uk/. Endsleigh Insurance Services Limited. Company No. 856706 registered in England at Shurdington Road, Cheltenham Spa, Gloucestershire GL51 4UE

How do I Book by Boarding Place?
Here is your step-by-step guide to making Academic Summer your reality:
Choose your programme, location and dates that align with your interests and schedule. Should you have any questions, our friendly admissions team is here to help.
Review the important details: Take a moment to carefully go through our terms and conditions. By signing the application form your indicating your agreement. Make sure you understand the programme you are signing up to.
Complete the booking form: Fill out our user-friendly online booking form, and don't forget to inform us about any medical or dietary concerns we should be aware of. Safety is our top priority. When you book a place you will create a log in to our portal where you can go back and add information later.
Reserve your place: It's time to make your initial payment of £500 to secure your spot. This will be offset against your total fees.
Request your visa letter: You can apply for your visa up to three months before the start of the course. We advise applying as early as possible. We will supply you with a letter to support your application.
Familiarise yourself with the parental portal: You can add any extra information about yourself, upload a photograph, and when the time comes, check out the student handbook, view your timetable and read your reports.
Customise your curriculum: Handpick your camps
Book your travel arrangements: Book your flights and add the details to the portal. We want to make your arrival seamless so please check our requirements for airport transfers before making any arrangements.
The countdown begins: Five weeks before your course, its time to make your final payment. We'll email you a reminder!
Take the English assessment: think of this as a friendly quiz to ensure we can communicate effectively and have a fantastic time together. Our teachers will use the results to plan their lessons with you in mind!
Verify everything: Log into the your online portal to confirm that you have sent us all the necessary documents and information.
Pack your bags: Consult our Student Handbook to make sure you've packed everything you need. And, of course, don't leave home without your sense of adventure!
Bon Voyage!
Airport Transfers
We provide airport transfers from London Heathrow Airport (LHR), which are included in your fees. Your flight should arrive or depart between 09.00 and 17.00 on our published arrival and departure days.
Taunton arrival dates:
Sunday 14 July 2024
Sunday 28 July 2024
Sunday 11 August 2024
Taunton departure dates:
Sunday 28 July 2024
Sunday 11 August 2024
Sunday 25 August 2024
If you arrive at school directly, please arrive between 15.00 and 17.00 on the arrival Sunday.
If you depart directly from school, please depart before 11.00 on the departure Sunday.
If you are meeting us at Heathrow please come to Arrivals Terminal 5 for 12:30pm
Arriving at times outside our transfer window
Our published arrivals and departures are designed to optimise your experience. Should you arrive or depart outside our advertised transfer window, or to an airport other than Heathrow please be aware that transfer fees will apply as follows:
Luton/Stansted/Gatwick: £510 each way
Heathrow (out of transfer window): £410 each way
Bristol Airport: £150 each way
Bristol Train Station: £150 each way.
Arriving or departing directly to campus out of hours/not Sunday: £150
Unaccompanied Minors (arriving/departing outside of our transfer window): £50
Contact our team for more information.
Some information for Local Day students
You can book by the day - a couple of days or the whole week (£45 per day)
Flexible child care during the holidays
Camps run from Monday to Thursday each week
Option to book the Friday trip as an extra (£125 for the full day)
Full day: Drop off is at 08.15 and pick up at 17.15 (Main Entrance)
How to book?
Complete our online application form. Choose the days you want to book
We will send you an invoice - you can pay by bank transfer or credit card
Fees are due 5 weeks before the camp starts. If you book after 5 weeks then full fees are due on booking
Please ask us if you have any questions. We are here to help.
What is the school's address?
Queen's College, Taunton, Trull Road, Taunton, TA1 4QS
Visa information
If you are coming to the UK from another country to participate in our programmes, you may need to obtain a Visitor (Child) Visa.
You can check what type of visa you need here: https://www.gov.uk/check-uk-visa
Here's a step-by-step guide on how the admissions and visa process works:
Apply to Academic Summer
Complete a booking form www.academiccamp.org/book-now
To secure your please, make an initial payment of £500
Request a Visa Support Letter
Once we receive your initial payment, you can request a visa support letter from us. We will email this letter to you without charge. If you need an original visa support letter sent by courier (this is not a requirement of UKVA, they will accept electronic format), there will be a charge of £75.
Please carefully review the letter and ensure that all the details and information are correct.
Visa Application
You can check to see if you need a visa to enter the UK here: https://www.gov.uk/check-uk-visa
Even if you don't need a visa, you still need to bring the required documents, such as confirmation of your place at Academic Summer and financial evidence to prove you have paid for your course, to show the border officer.
Visa Application Timing
If you do need a visa, you can apply for a Visitor (Child) Visa up to three months before your planned travel date to the UK.
Visa processing typically takes about three weeks but you can check the guide processing times for specific information related to your country. It is best to apply as soon as you can because we cannot refund fees because you do not receive your visa on time.
Visa Support from Academic Summer
Academic Summer is accredited by the British Accreditation Council (BAC), allowing us to support your visa application.
We provide a visa support letter to international students which you should use when applying for your visa at a Visa Application Centre in your country.
If you are not familiar with the visa application process we strongly advise you enlist the support of an immigration specialist or Education Travel Agent in your country. Please contact us if you would like us to recommend someone.
For more information on Visitor (Child) Visas please visit: https://www.gov.uk/visa-to-study-english
Long-Term Study in the UK
Please note that Academic Summer is not a Tier 4 Sponsor and cannot issue CAS.
If you plan to study in the UK at a boarding school immediately after your Academic Summer Programme please let us know as you may be able to attend the course using your Tier 4 Child Student Visa sponsored by your future school.
We have many partner schools who can include the Academic Summer programme on your Confirmation of Acceptance for Studies (CAS) as a Pre-Sessional course. Your Tier 4 Child Student Visa will then be valid for both the Academic Summer course and your full-time studies in the independent boarding school.
Police Registration and BRP Collection
If you come to the UK on a Tier 4 Child Student Visa, you may need to register with the police if it is a visa condition (as indicated on your entry clearance vignette). Academic Summer staff will assist you with this process. A registration fee will apply.
Those staying in the UK for more than six months will receive a 30 day entry clearance vignette and must collect their Biometric Residence Permit (BRP) upon arrival. Academic Summer will coordinate with your boarding school to facilitate this process.
For more information on Tier 4 Child Student Visas, please visit: https://www.gov.uk/child-study-visa
What should my English level be?
Adventurers: A2
Explorers: B1
Engagers: B2
Remember to take your free CLIL test before arrival. You can log into the Portal for your unique test link.
What about my free time?
We always have dedicated staff on duty, ensuring supervision during breaks, in the evenings and on weekends. Supervision is 24/7. Students are not allowed out without a member of staff in the evenings. During trips, you will have free time where you will be given space to explore with your camp-mates without staff present. There will always be a member of staff close by at a designated meeting point who is contactable by phone should you need them. Adventurers are never left unsupervised.
What is the Nationality Mix?
Last year we welcomed students from over 60 different nationalities to our programmes from countries including UK, Italy, France, Switzerland, Ghana, Canada, Japan, China, Ukraine, and many more!
WHAT DO PEOPLE SAY ABOUT US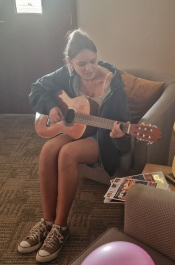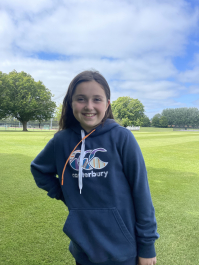 My English improved and of course my social skills improved too. I will miss this experience and place but I am really happy I came here.
Yeva (13) Ukraine
I especially like drama and all the games we play. I learnt that you can make friends with anyone from anywhere. I really like the food, especially the hot chocolate! My favourite moment was playing hide and seek. I definitely want to come back!
Eloise (10) UK