ACADEMIC CAMP CANADA, NEW BRUNSWICK
Discover Canada's Natural Beauty While Studying with Canadians: Where Education Meets Adventure!
About the Program
Academic Camp Canada is where education and adventure converge in the great Canadian wilderness. In partnership with Rothesay Netherwood School (RNS), this camp offers an exclusive experience that blends academic excellence with an authentic Canadian feel.
Discover Canada's diverse culture and warm hospitality as you immerse yourself in our program. You'll have the opportunity to study alongside Canadians joining the RNS day camps, creating a rich, multicultural learning environment.
This small, exclusive camp ensures personalized learning and long-lasting friendships. Beyond the classroom, our camp is set amidst Canada's stunning natural landscapes, providing endless opportunities for outdoor adventure, including wild swimming and whale-watching
Choose the camp that suits you, whether it's Get Outdoors or Entrepreneurship in week one, and Public Speaking and Debate Camp or STEAM Camp in week two.
Academic Camp Canada is more than just a summer camp; it's a transformative experience that combines the pursuit of knowledge with the thrill of exploration. Whether you're seeking to strengthen your academic skills, develop leadership qualities, or simply broaden your horizons, our camp provides a platform for growth and self-discovery.
LOCATION
New Brunswick
Overlooking the banks of the Kennebecasis River, Rothesay Netherwood School (RNS) is located on a beautiful campus in Rothesay, New Brunswick. It is 10 minutes from Saint John Airport (YSJ). RNS is a special partner of Academic Camp Canada and is friendly and welcoming.
New Brunswick is a province teeming with natural wonders and exciting adventures. Its crown jewel is Fundy National Park, a place of breathtaking beauty where you can explore forests, cascading waterfalls and rugged coastlines. The Bay of Fundy, is famous for having the highest tides in the world; a remarkable sight. At Hopewell Rocks, massive flowerpot-shape rock formations are revealed and concealed by the dramatic tides giving an awe-inspiring experience.
In the charming town of Saint Andrews, you'll discover a quaint maritime paradise and a chance to go whale watching. Saint John is near the school and is the largest city in the province and is well-known for its indoor market, container village, cruise ships and Reversing Falls.
The province is a playground for nature lovers and adventure seekers. New Brunswick is a great location for those seeking a summer filled with exploration and excitement. The early settlers played a pivotal role in shaping New Brunswick's cultural mosaic, contributing to its unique identity. New Brunswick history is preserved and celebrated with opportunities to experience the local community, concerts, and living museums so join the early settlers and encounter the well-kept secret of this wonderful location.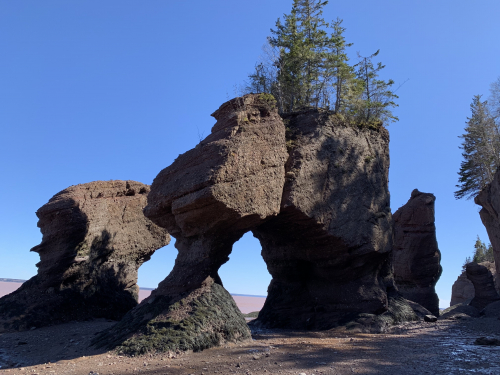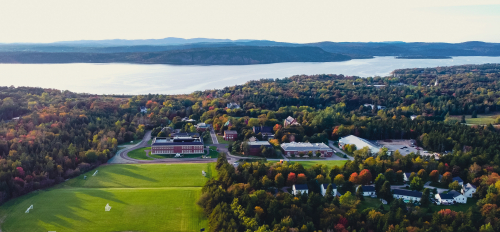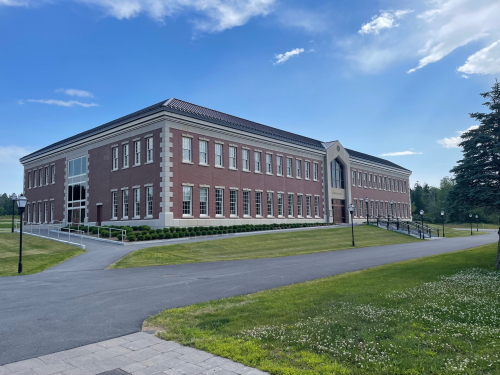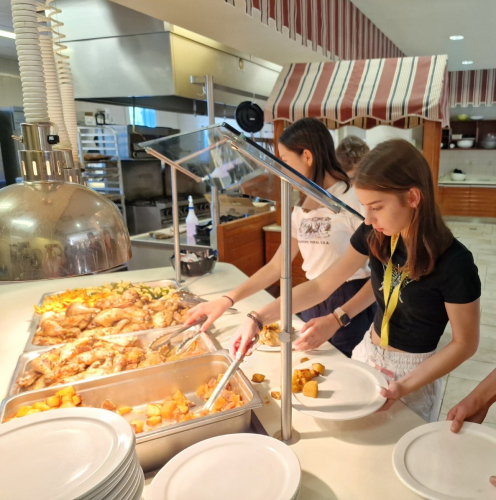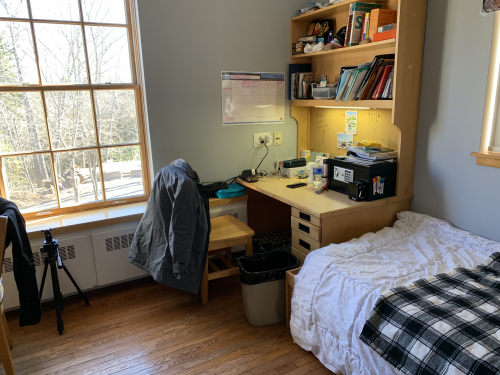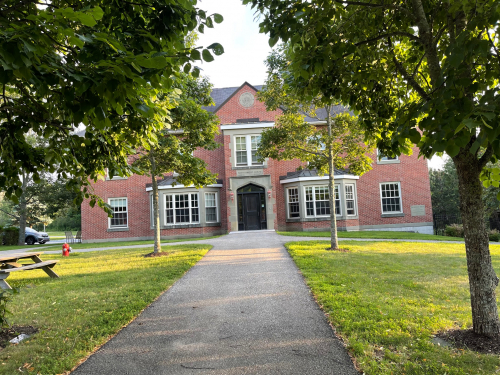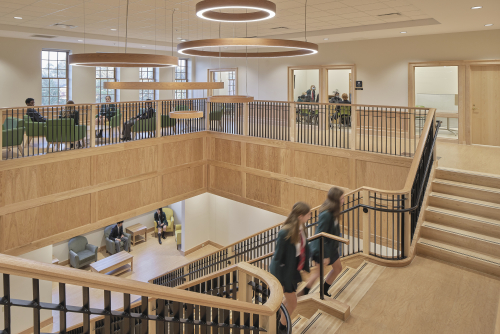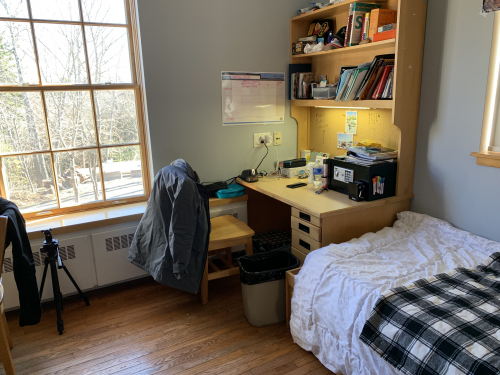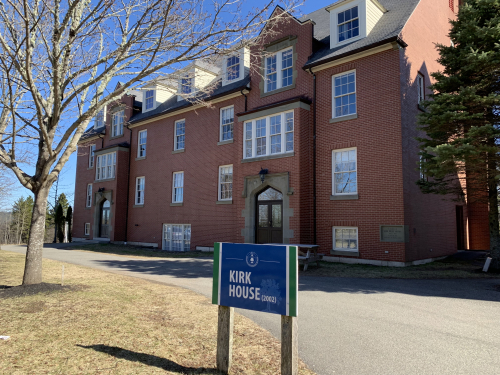 ACCOMMODATION
Rothesay Netherwood School (RNS)
RNS is in Rothesay, near Saint John, New Brunswick, Canada. The school is a boarding and day school for Grades 6 to 12. It is an International Baccalaureate (IB) World School and a member of the prestigious Round Square.
The 125-acre woodland campus overlooks the beautiful Kennebecasis River, where you can enjoy an evening swim and plenty of local walking trails. The school has modern classrooms and learning spaces, featuring a state-of-the-art, 40,000 square-foot Science building, a fitness centre, tennis courts, soccer fields, and much more.
Our boarding is in Netherwood House and Kirk House and offers twin bedrooms with ensuite washrooms. The residences have a comfortable common room and kitchen area for relaxing and making snacks.
As a small boarding family, we normally have breakfast together in the boarding houses; lunch is in the school's dining room with the RNS camps, full of atmosphere and noise. In the evening, we eat together in the school dining room, and the friendly chefs spoil us with great food. Occasionally, at weekends, we enjoy a dinner out in a restaurant at the end of our trip day.
ACADEMIC
Experience an Authentic Canadian Camp Full of Learning to Challenge and Inspire!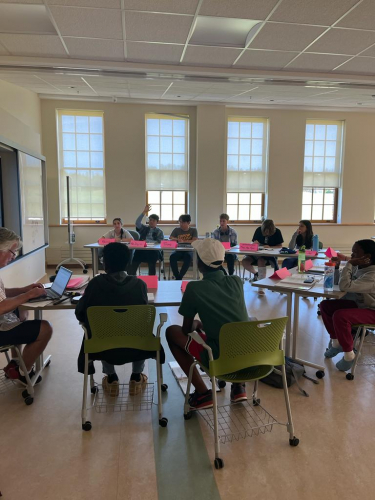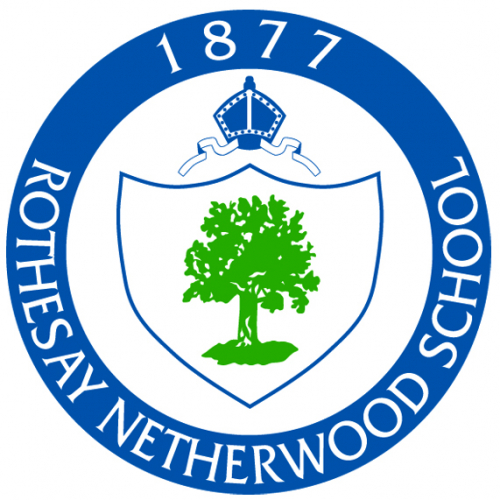 In an exciting collaboration, Academic Camp Canada (ACC) and Rothesay Netherwood School (RNS Camps) have joined forces to create a unique opportunity for international and Canadian boarders to come together for an inspiring summer camp experience. This partnership allows campers to share in the magic of Canadian summer camps alongside local campers, fostering a fantastic learning environment for all. Get Ready for an unforgettable summer with adventure, unlocking skills, knowledge, and lasting friendships.
The Camps
WEEK 1: MONDAY 22 JULY TO THURSDAY 25 JULY 2024
Choose between the following two camps:
Get Outdoors (RNS)
Campers entering grades 5 to 9 (age 13-15)
Entrepreneurship (ACC)
Campers entering grades 9 to 12 (age 14-17)
WEEK 2: MONDAY 29 JULY TO THURSDAY 1 AUGUST 2024
Choose between the following camps
Public Speaking and Debate Camp (RNS)
Campers entering grades 9 to 12 (age 14-17)
STEAM Camp (ACC)
Campers entering grades 8 to 12 (age 13-17)
Entrepreneurship Camp (ACC) - Week 1
Campers entering grades 9 to 12 (age 14-17)
Join us at Entrepreneurship Camp for an immersive journey where you'll delve deep into Economics, Business and Entrepreneurship, gaining insight beyond the classroom. The camp empowers young minds to think like economists and Business Managers, exploring economic growth and predicting business success. Through dynamic projects and challenges, we cover everything from crafting strategies and business plans to marketing mastery, brand brilliance, finance fundamentals, and networking ninja skills. Explore the ethical dimension of entrepreneurship and develop the confidence to lead with innovation and teamwork. Entrepreneurship Camp isn't just about theory; you'll get to step into the real business world. Visit local businesses, rub shoulders with industry pros, and gain hands-on experience. This unique opportunity extends to conducting real-world research, where you'll analyze markets, interview locals, and present findings in business analyst plans. See firsthand how professionals transform dreams into reality, expanding your horizons and igniting your future careers. At our Entrepreneurship Camp, we don't just teach entrepreneurship - we live it, breathe it, and create tomorrow's business leaders.
G(et).O(utside). Camp (RNS) - Week 1
Campers entering grades 5 to 9 (age 13-15)
G.O. Camp is a four-day outdoor experience aimed at giving you the skills and confidence, through numerous activities, to Get Outside and enjoy nature. You will learn essential skills such as reading maps, fire-making, trip preparation, knots and ropework, and outdoor cooking. You will develop your teamwork and leadership skills as well as being challenged. Due to the nature of the camp, registration will be capped at 16 participants.
STEAM Camp (ACC) - Week 2
Campers entering grades 8 to 12 (ages 13-17)
STEAM Camp offers a dynamic fusion of academics, language acquisition, and practical learning, all centred around STEAM subjects - Science, Technology, Engineering, Arts and Mathematics. From delving into Computer Science and Robotics, exploring Artificial Intelligence implications, and unravelling human biology's mysteries to addressing environmental concerns and engineering solutions. Academic Camp Canada's STEAM camp is your gateway to an exciting and diverse world of knowledge and career opportunities. Whether you're passionate about the world's inner workings or exciting STEAM careers, this camp is ideal for budding engineers, tech enthusiasts and curious minds. We nurture independence, equipping you with invaluable study skills for your educational journey and future professions. Workshops and lectures expose you to diverse learning approaches, seamlessly intertwining academic content with acquiring softer life skills. We emphasize ensuring competence in interpersonal communication for informal academic discussions and formal presentations of subject-specific knowledge.
Speech and Debate Camp (RNS) - Week 2
Campers entering grades 9 to 12 (ages 14-17)
RNS Camps Speech and Debate Camp is designed to empower you through your voice and civil discourse. A focus is on developing effective verbal communication and collaboration with others. Campers will participate in workshops on the fundamentals of speech and debate. The program will include an introduction to different styles of debate from individual, team and larger committee discussions. The camp aims to help build informed and articulate community and global citizens through the natural human talent of public speaking.
CLIL APPROACH
Our teaching and learning approach is centred around Content and Language Integrated Learning (CLIL) which gives a holistic approach to learning. Experts have described CLIL as a significant methodological revolution in language teaching. 
According to Coyle (1999), the CLIL curriculum is based on the four Cs:
JOIN US AND UNLOCK THE BENEFITS OF CLIL:
Enhance your  Content  knowledge in key curriculum topic areas in your chosen subject areas
Develop your  Cognition  skills. You'll develop your critical, logical and creative thinking abilities, as well as learn to analyse data, engage in discussions, form your own opinions and collaborate effectively
Work on your  Communication  skills. You use language to learn whilst learning to use language. You will learn to give a good presentation and write an extended essay, which is essential whatever you study
Understand  Culture  and your role as a global citizen, your beliefs and values enabling you to develop a reflective knowledge base  
You will develop your communicative use of English as an international language and academic language proficiency, whether you are a native or non-native speaker of English.  
Leisure Programme 2024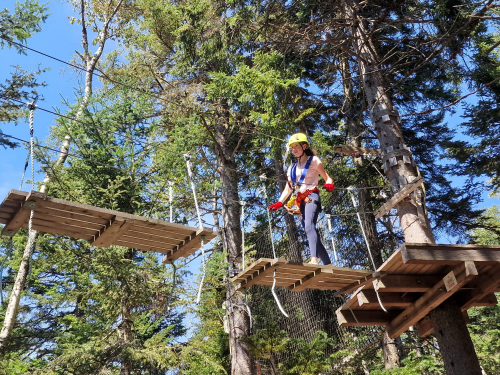 Academic Camp Canada promises you the most exhilarating and unforgettable leisure program on a summer camp ever! Get ready for an adventure-packed journey.
From Monday to Thursday, you will find yourself immersed in the natural beauty of our campus and surroundings. As the sun sets, our camp comes alive with a whirlwind of thrilling activities. Picture yourself taking a refreshing plunge into the Kennebecasis River, where you can unwind and connect with the wonders of nature. Our campfires are legendary, featuring exciting fames, heartwarming sing-alongs, and the pure delight of crafting s'mores beneath the starry Canadian sky. And don't forget the woodland hikes, your gateway to exploring the local flora and fauna, fostering a deep appreciation for the great outdoors. To cap off the week, we offer a chance to dive into the vibrant local music scene with captivating concerts, adding a culturally enriching dimension.
Fridays, Saturdays and Sundays are where the real adventure kicks in! Brace yourself for a whirlwind of excitement, education, and unforgettable experiences that showcase the diverse beauty and culture of New Brunswick. Prepare to embark on the adventure of a lifetime, starting with the awe-inspiring spectacle of whale watching, where you'll witness these majestic creatures in their natural habitat. At Kings Landing, you'll step back in time, immersing yourself in the rich history of the region and uncovering the heritage and traditions of New Brunswick's past. Or challenge yourself at TimberTops high ropes for an adrenaline-pumping experience.
But the adventure doesn't stop there! The Fundy Trail awaits, enticing you with its breathtaking coastal vistas and hiking trails that offer a chance to marvel at the raw beauty of nature. And no visit to New Brunswick would be complete without a trip to the iconic Hopewell Rocks, where you'll witness the jaw-dropping phenomenon of the world's highest tides, sculpting the landscape before your very eyes.
Let us be your guide as we unveil the amazing, breathtaking, and largely unexplored part of Canada that is New Brunswick. Each day will bring new discoveries, new memories and new friends that will last a lifetime.
Be a Leader is a cornerstone of Academic Camp Canada, offering an enriching fusion of the academic and leisure, tailored for the New Brunswick area. The engaging two-week course empowers you with leadership and teamwork skills in an exciting, enjoyable and educational environment leading to a CPD qualification for your motivation letter. CPD stands for Continuous Professional Development, showing our unwavering commitment to excellence.
Throughout the program, you'll have the opportunity to Meet a Leader - accomplished individuals from diverse fields who share their personal journeys to success, igniting your own aspirations. Be a Leader facilitates self-discovery by assessing your skills, through psychometric, aptitude and career tests, resulting in a personalized 'My Career Choice' report to illuminate your future pathways.
Your daily routine includes exploring essential leadership skills such as communication, negotiation, influence and confidence. These are introduced in morning assemblies and then developed through practical application with your teachers and camp counsellors. The program seamlessly integrates with the Canadian experience fostering camaraderie and personal growth. Through team-building, outdoor challenges like the high ropes course, invigorating water sports, as well as on-campus bushcraft and survival challenges, you'll immerse yourself in the unique natural beauty and adventure opportunities that New Brunswick has to offer.
BOARDING STUDENTS
Age 13-17
Sunday 21 July to Sunday 4 AUGUST 2024
$4,800 / PER TWO-WEEK COURSE
Includes tuition, teaching materials, accommodation, meals, insurance, laundry, airport transfers, trips and activities
DAY STUDENTS
Age 13-17
Monday 22 July to Thursday 1 AUGUST 2024
$260 / PER WEEK ($225 / PER DAY TRIP)
Monday to Thursday (8.30am to 4.30pm) and includes RNS or ACC camp and lunch. Trips can be booked as an extra
What are the payment terms?
An initial payment of $800 should be made to secure your booking, and the final payment is due at least five weeks before your summer camp starts.
Once paid, fees are non-refundable. Please refer to our Term and Conditions for more information.
Are there any extra fees?
Booking Changes: If you need to modify your booking, a $80 administrative fee will apply.
Arrival and Departure Transfers: Our published arrivals and departures are designed to optimise your experience. Should you arrive or depart outside our advertised transfer window, or to an airport other than Halifax or Saint John, please be aware that transfer fees will apply as follows:
Halifax Airport is $800 each way
Arriving or departing directly to campus out of hours/not Sunday: $150
Contact our team for more information
Extra nights: $150 (subject to availability; transfer not included).
Weekend trips: $225 (days students or those attending the trip on arrival/departure day).
What is the nationality mix?
In 2023 we were 70% Canadian and 30% International.
How do I book?
Here is your step-by-step guide to making Academic Summer your reality:
Choose your programme, location and dates that align with your interests and schedule. Should you have any questions, our friendly admissions team is here to help.
Review the important details: Take a moment to carefully go through our terms and conditions. By signing the application form your indicating your agreement. Make sure you understand the programme you are signing up to.
Complete the booking form: Fill out our user-friendly online booking form, and don't forget to inform us about any medical or dietary concerns we should be aware of. Safety is our top priority. When you book a place you will create a log in to our portal where you can go back and add information later.
Reserve your place: It's time to make your initial payment of $800 to secure your spot. This will be offset against your total fees.
Request your visa letter: You can apply for your visa up to three months before the start of the course. We advise applying as early as possible. We will supply you with a letter to support your application.
Familiarise yourself with the parental portal: You can add any extra information about yourself, upload a photograph, and when the time comes, check out the student handbook, view your timetable and read your reports.
Customise your curriculum: Handpick your workshops or subjects based on your chosen programme.
Book your travel arrangements: Book your flights and add the details to the portal. We want to make your arrival seamless so please check our requirements for airport transfers before making any arrangements.
The countdown begins: Five weeks before your course, its time to make your final payment. We'll email you a reminder!
Take the English assessment: think of this as a friendly quiz to ensure we can communicate effectively and have a fantastic time together. Our teachers will use the results to plan their lessons with you in mind!
Verify everything: Log into the your online portal to confirm that you have sent us all the necessary documents and information.
Pack your bags: Consult our Student Handbook to make sure you've packed everything you need. And, of course, don't leave home without your sense of adventure!
Bon Voyage!
Airport Transfers
We provide airport transfers from Halifax Airport (YHZ), which are included in your fees. We can also collect you from Saint John Airport (YSJ). (Be careful not to confuse this with St John's Airport (YYT), in Newfoundland. This is the wrong airport!)
Your flight should arrive or depart between 10.30 a.m. and 6.30 p.m. on our published arrival and departure days.
Arrival Date: 21 July 2024
Departure Date: 4 August 2024
If you arrive at school directly, please arrive between 3 p.m. and 5 p.m. on the arrival Sunday.
If you depart directly from school, please depart before 11 a.m. on the departure Sunday.
Arriving or departing directly to campus out of hours/not Sunday: $150
An out-of-hours transfer to/from Halifax (YHZ) will cost $800; an out-of-hours transfer to/from Saint John (YSJ) will cost $100.
From Europe, we are recommending this flight to students:
Sunday 21 July 2024
Frankfurt to Halfix (AC7386): Departing from Frankfurt at 15.50 and arriving in Halifax at 18.10
Sunday 4 August 2024
Halifax to Frankfurt (AC7387): Departing from Halifax at 19.40 and arriving in Frankfurt at 07.20(+1)
There is also a direct flight from London Heathrow.
Visa Information
Children under the age of 18 and 19 are considered minors in Canada and New Brunswick respectively. Minors are required to follow the same rules as any other visitors. Minors travelling to Canada without their parents or legal guardians will be checked very closely.
Please read the Canadian Government's advice for minors travelling to Canada.

Before you travel you must find out if you need a visa or an ETA to travel to Canada

Some nationalities will only need an Electronic Travel Authorisation (ETA) to travel to Canada. This is a short form that can be completed online. You can find a list of nationalities that can travel to Canada on an ETA here.
Other nationalities may need a Visitor Visa to attend Academic Camp. As you are coming for less than 6 months you will NOT need a study permit.
You can check all the requirements and documents you will need to submit with the application here.

It is the traveller's responsibility to complete the application, alternatively, you can employ the services of a registered person to help you.
Some students will need a document called a Custodian Declaration. Required documentation differs from country to country so we recommend you contact the Canadian Embassy or Consulate in your country for more information and to clarify whether you will need a Custodian Declaration to enter Canada. If you need help to acquire this please contact us at info@academiccamp.org. If you do require a Custodian Declaration you must carry it with you when you travel.
Click here to see the entry requirements for your country.

Click here to download our document checklist to make sure you bring everything you need if you are travelling from outside Canada.

Click here to download the parental consent form. This form must be signed by both parents to give permission to travel. If this is not possible you must carry documentation to support the reason why, for example, a death certificate. If travelling with a group leader, you are still required to travel with signed parental consent.
Click here to download the family information form.


What's the school's address?
Rothesay Netherwood School, 40 College Hill Road, Rothesay, NB E2@ 5H1, Canada
What about my free time?
We always have dedicated staff on duty, ensuring supervision during breaks, in the evenings and on weekends. Supervision is 24/7. Students are not allowed out without a member of staff in the evenings. During trips, you will have free time where you will be given space to explore with your camp-mates without staff present. There will always be a member of staff close by at a designated meeting point who is contactable by phone should you need them. Adventurers are never left unsupervised.
What should my English Level be?
Minimum level of English on the CEFR: B1+
Remember to take your free CLIL assessment test before arrival. You can log into the Portal for your unique test link.
WHAT DO PEOPLE SAY ABOUT US
It's been great to speak English for more than two hours, and Canada is such a cool country!
Maria, (17) Polish
I've learned a lot, before I didn't know gaga ball even existed!
Madison, (12) Canadian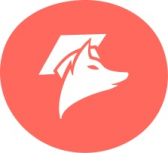 BOOK NOW
Please complete our online application form. You will receive a confirmation letter and invoice shortly after booking.