ACADEMIC SUMMER BRISTOL
The Original Academic Summer Experience: Where Adventure and Learning Collide
About the Programme
Nestled in the serene beauty of the Mendip Hills, Academic Camp, Bristol proudly stands as our flagship camp. With a commitment to providing a safe and picturesque environment, we invite you to join us for a blend of academic pursuits, sporting adventures, outdoor education and exciting excursions- including to London!
Immerse yourself in a world of academic excellence where learning becomes a joyous adventure. Academic Camp, Bristol caters to Adventurers (ages 7-12), Explorers (ages 12-14), and Engagers (ages 15-17), ensuring that every young mind finds the perfect academic challenge.
For the sports enthusiasts, our state-of-the-art facilities provide the perfect arena for athletic pursuits. From friendly games to competitive tournaments, we encourage physical activity and the thrill of healthy competition. Our location in the heart of the British countryside allows us to offer unique outdoor education experiences. Explore nature, build resilience and develop leadership skills in an environment that inspires personal growth. And when it is time to venture beyond our campus and explore, the vibrant city of Bristol is just a stone's throw away.
Our secure and nurturing campus provides a protective cocoon, allowing every student to thrive, explore, and learn with confidence. This summer, let Academic Camp, Bristol be your destination for a holistic blend of academics, sports, outdoor adventures, and cultural exploration, where unforgettable summer memories are waiting to be made.
LOCATION
Bristol
Experience the scenic beauty of the British countryside with the captivating Mendip Hills as the backdrop. Our host school is Sidcot School, a traditional boarding school with a large, beautiful campus. The school is 45 minutes from Bristol city centre and under two hours to London Heathrow. Sidcot is an ideal location to enjoy the safe and tranquil countryside and experience the adventure of campfires and survival skills, as well as bring the outdoors into your classrooms. It is a stone's throw from Cheddar Gorge, a national heritage site where the famous cheese is produced and there is a chance to go climbing and caving to have a real adventure.
In the vibrant city of Bristol is fashionable and free-spirited so it is no surprise that Banksy started here with a can of spray paint. Bristol's famous Clifton Suspension Bridge is a testament to the innovative engineering of Isambard Kingdom Brunel and has shaped the city's landscape and historical importance. It is also home to the renowned Cabot Cirus which is a great place to shop so there is an opportunity to enjoy city life as well as the amazing countryside.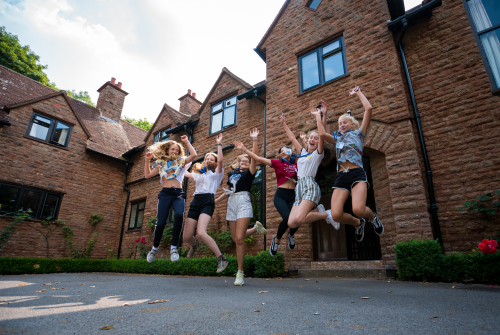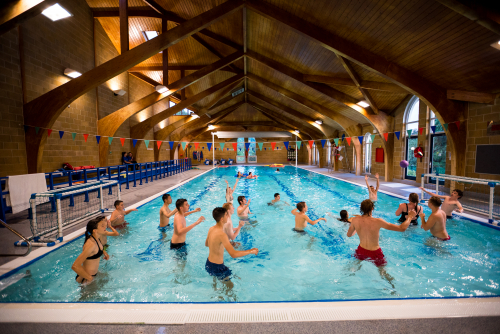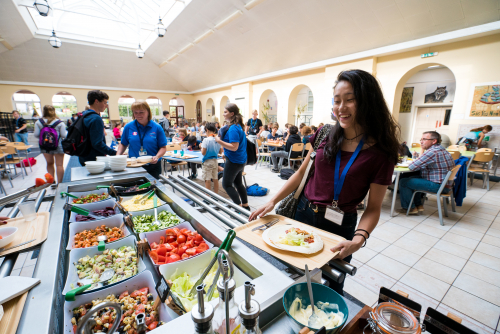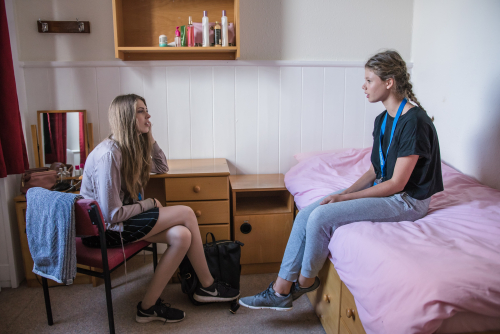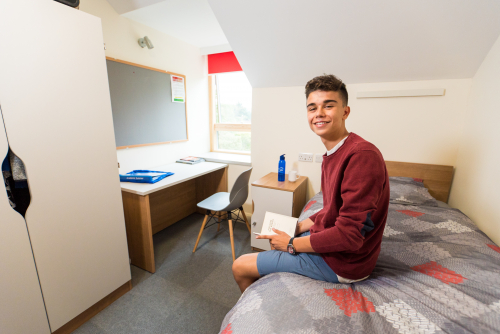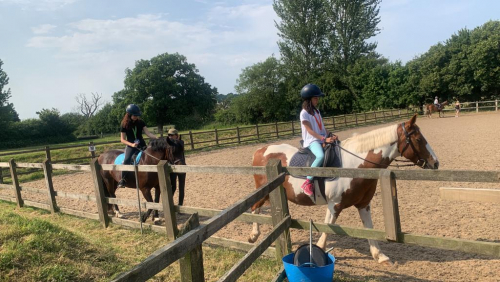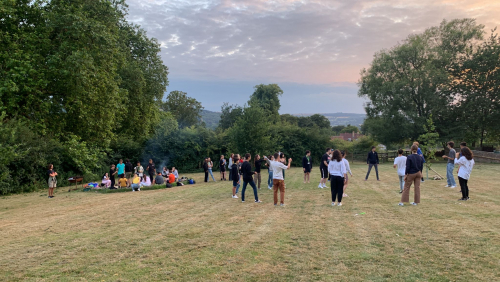 ACCOMMODATION
Sidcot School, near Bristol
Sidcot School offers a comprehensive range of facilities which enrich your summer experience. The campus includes an indoor swimming pool, tennis courts, a sports hall, playing fields, a library, and an Art Centre equipped with Music, Drama and Art classrooms. The Sidcot Hub, a coffee shop, is the perfect place to unwind; for those who love horse riding, the stables provide a unique opportunity to indulge in this activity right on the campus. Plus, you'll savour a variety of delicious, homemade meals in the modern dining rooms. Campus-wide Wi-Fi keeps you connected throughout your stay,
Boarding houses, School House Boys, School House Girls, Newcombe, Coombe, Wing and Meadowside, are all on the campus. Most bedrooms are for two or three students in each room, though there are some rooms for four students and some single rooms. Roommates are thoughtfully paired based on age and language spoken to foster English practice and cross-cultural friendships. Our single rooms are generally assigned to students aged 16 and above, and are allocated on a first-come basis. Shared bathrooms are standard. The bedrooms are cosy and comfortable, and there are lounges and kitchens in each boarding house for students to relax and connect with new friends after a day filled with exciting camp activities.
ACADEMIC
Unlock your Potential and Elevate your Academic Journey as you Prepare for Primary, PYP, GCSE/MYP, A Levels or the IB Diploma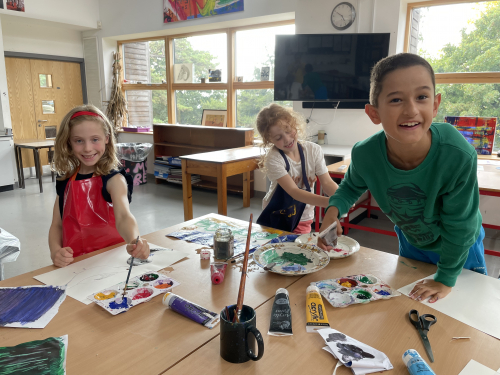 Adventurers is a high-quality camp for young learners
Welcome to our Adventurer camp, a remarkable educational experience for young learners aged 7-12. With round-the-clock supervision by experienced staff, we prioritise your child's safety and well-being.
We seamlessly integrate summer English language learning with an academic subject curriculum tailored to the primary age group. Our experienced primary teachers know how to make learning fun and relevant for this age. They follow a cross-curricular approach centred around a weekly theme. We want to encourage our curious Adventurers to try new things and have a can-do approach as they realise learning is a fantastic adventure.
Adventurers, grow in confidence and achieve academic excellence. We celebrate their successes and empower them to take pride in their accomplishments. We want to help our young learners reach their Personal Best as they prepare for primary/PYP.
The Facts
| | |
| --- | --- |
| Age | 7-12 |
| Minimum Level of English | A2 on the CEFR |
| Maximum Class Size | 12 |
| Hours of Learning per week | 20 |
The Subjects
The Adventurer timetable typically includes the following subjects:
English
Applied Maths
Science
Social Studies
The Arts
The cross-curricular lessons mean your child will study a topic or participate in a project that may include Science, Maths and Geography. Your child might be in a History lesson whilst developing their Drama and Design and Technology skills. Our primary teachers know how young learners learn best!
Young learners, from beginners to native speakers of English, have enjoyed great success in our Adventurer camp, enjoying its inclusive, nurturing, yet challenging nature.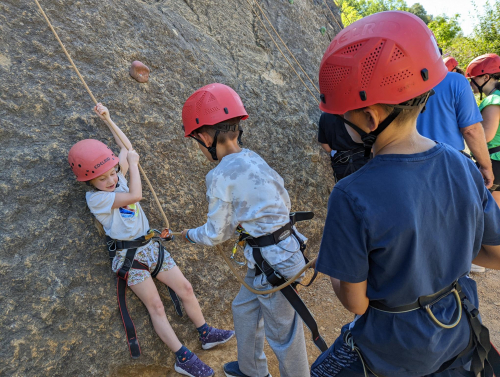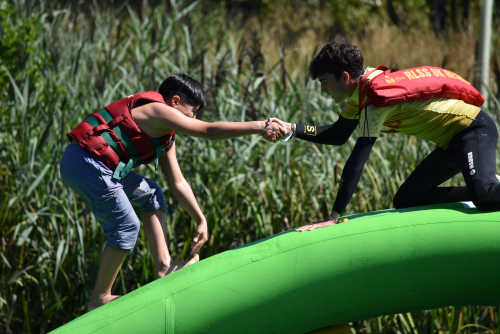 Explore in Learning
Discover the Academic Summer Explorer camp, a dynamic learning experience and environment conducive to academic growth and English language development. Our curriculum encompasses a diverse range of subjects, including:
English
Applied Maths
Sciences
Social Studies
The Arts
The Facts
| | |
| --- | --- |
| Age | 12-14 |
| Minimum Level of English | B1 on the CEFR |
| Maximum Class Size | 15 |
| Hours of Learning per week | 30 |
Explorer's comprehensive approach serves as excellent preparation for GCSE, Middle Years Programme (MYP) or equivalent. We are committed to making learning enjoyable and practical through a cross-curricular approach. Whether you're exploring the world of Science in our laboratories or honing your IT or presentation skills, you'll experience a holistic approach to education that enriches both your content knowledge and English language skills.
Join our Explorer camp and embark on a journey that prepares you for success in your future studies.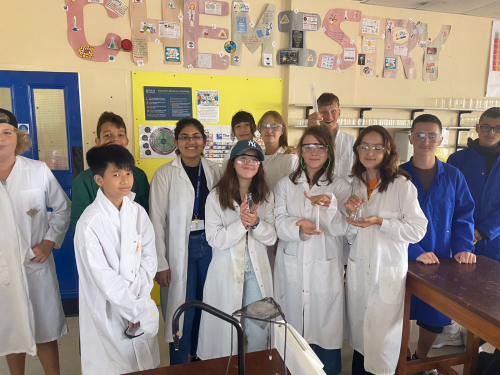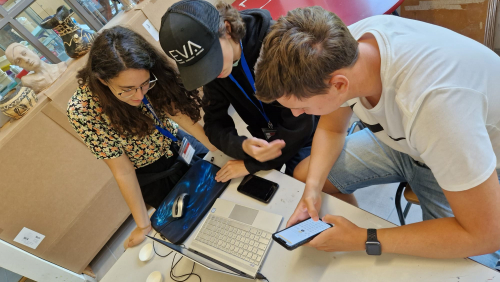 Engage Deeper and Shape your Educational Journey
Engagers offer a unique blend of subject specialisation and developing English language skills, providing a solid foundation in GCSE topics and preparing you for the challenges of A Levels / IB Diploma, or other advanced academic pathways.
You can choose your subjects and delve deeper into areas of personal interest. We encourage academic excellence in your chosen subject, but we also nurture your language proficiency in writing an essay or giving a presentation, ensuring you are well-equipped to excel in your academic aspirations. We want you to foster a love for lifelong learning, to be inspired, and to be empowered to comprehend complex subject matter with confidence.
The Facts
| | |
| --- | --- |
| Age | 15-17 |
| Minimum Level of English | B2 on the CEFR |
| Maximum Class Size | 15 |
| Hours of Learning per week | 30 |
Your Choice!
Choose your subjects before you arrive, and we will write your timetable. It is your summer.
You will study four subjects per week, but we ask you to choose at least eight, so we ensure you are always in a class that interests you. Check your timetable online and make any changes before you travel.
Our Engagers camp is the ultimate platform for preparing for a future filled with opportunities.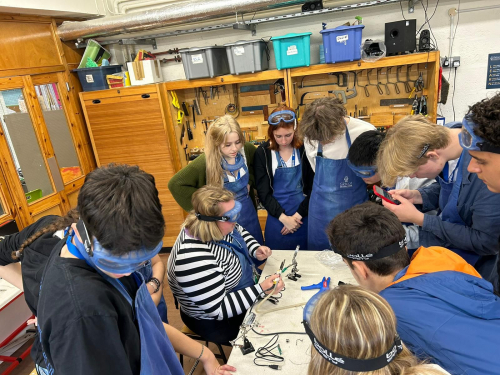 The Engager Subjects We Offer:
Applied Maths
Art
Biology
Chemistry
Commuter Science
Design and Technology
Economics, Business and Entrepreneurship
English
Environmental Systems and Societies
Essay Writing
History and Politics
Media Studies
Physics
Presentations and Interviews
Psychology
Theory of Knowledge
CLIL APPROACH
Our teaching and learning approach is centred around Content and Language Integrated Learning (CLIL) which gives a holistic approach to learning. Experts have described CLIL as a significant methodological revolution in language teaching. 
According to Coyle (1999), the CLIL curriculum is based on the four Cs:
JOIN US AND UNLOCK THE BENEFITS OF CLIL:
Enhance your  Content  knowledge in key curriculum topic areas in your chosen subject areas
Develop your  Cognition  skills. You'll develop your critical, logical and creative thinking abilities, as well as learn to analyse data, engage in discussions, form your own opinions and collaborate effectively
Work on your  Communication  skills. You use language to learn whilst learning to use language. You will learn to give a good presentation and write an extended essay, which is essential whatever you study
Understand  Culture  and your role as a global citizen, your beliefs and values enabling you to develop a reflective knowledge base  
You will develop your communicative use of English as an international language and academic language proficiency, whether you are a native or non-native speaker of English.  
Leisure Programme 2024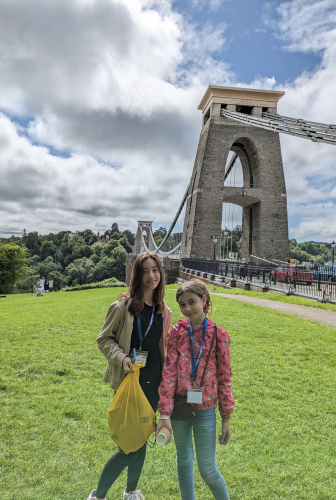 Learning extends far beyond the classroom walls. It's about embracing life, making new friendships and creating memories that will stay with you forever. Our leisure programme in Bristol is not just a list of activities; it's a promise of an unforgettable summer filled with excitement, adventure and personal growth. We've carefully curated a selection of unique and captivating trips that will reveal England in a whole new light. From iconic tourist attractions to hidden gems, we've got it all covered. Wednesdays, Saturdays, and Sundays are your ticket to adventure!
Our closest city, Bristol, isn't just a city; it's a vibrant canvas of creativity. It's the birthplace of Banksy, and you can follow his artistic journey on a thrilling Banksy walking tour. Then, cross the awe-inspiring Clifton Suspension Bridge, an engineering marvel. Step back in time aboard the SS Great Britain, once the world's largest passenger ship. And for shopaholics, Cabot Circus awaits, offering retail therapy to your heart's content.
Nestled in an area of outstanding natural beauty, Sidcot is your gateway to adventure. Hike and explore the enchanting Cheddar Gorge, famous for its cheese production. Geography lessons come to life as you discover the secrets of the Gorge's formation. On the Mendip Hills, we take adventure to the next level. Test your limits with rock climbing, caving, paddle boarding, kayaking and outdoor survival. It's an adrenaline rush like no other!
A visit to the UK wouldn't be complete without experiencing London. that's why we venture to the capital once every two weeks. From world-famous museums to indulgent shopping at Harrods, from admiring masterpieces in the National Gallery to exploring the vibrant Southbank with Shakespeare's Globe, Tate Modern, London Eye, and Tower Bridge- you'll soak up the best of the city all in one day!
But the excitement doesn't end there. Explore the charming university city of Oxford, where the world's brightest minds converge. Visit Shakespeare's birthplace in Stratford-Upon-Avon and explore the enchanting Cardiff Castle in Wales. Step into a Jane Austen Novel as you explore the historical city of Bath. In Windsor, decode the royal signals - a full mast means King Charles III is home. Embark on a fossil hunt in the quaint town of Lyme Regis on the Jurassic Coast. Or, if you crave exhilaration, unleash your inner thrill-seeker at Thorpe Park and Dorset Adventure Park.
Be a Leader is an integral part of Academic Summer experience on the Sidcot School campus, where academic enrichment meets leisure in perfect harmony. The two-week course equips you with leadership and teamwork skills in an exciting, enjoyable and educational environment leading to a CPD qualification. a testament to our unwavering commitment to excellence.
Throughout the programme, you'll have an opportunity to Meet a Leader - accomplished individuals from diverse fields who share their personal journeys to success, inspiring your own dreams. Be a Leader facilitates self-discovery by assessing your skills, through psychometric, aptitude and career tests, resulting in a personalised 'My First Choice' (age 11-13) 'My Career Choice'(age 14-18) report that will serve as your compass for future decisions.
Your daily routine includes exploring essential leadership skills such as communication, negotiation, change-management, influence and confidence. These are introduced in morning assemblies and then developed through practical application with your teachers and camp counsellors. Expect an array of engaging activities including, bushcraft, orienteering, archery, climbing, raft building, and the organisation of a charity event that showcases your collaborative spirt.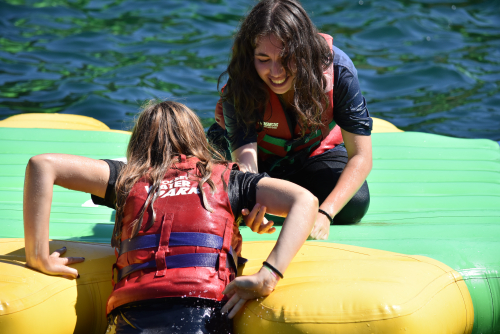 ADVENTURERS
Age 7-11
Sunday 7 July to Sunday 4 August 2024
£3,100 / PER TWO-WEEK COURSE
Includes tuition, teaching materials, accommodation, meals, insurance, airport transfers and all trips and activities
EXPLORERS & ENGAGERS
Age 12-17
Sunday 7 July to Sunday 18 AUGUST 2024
£3,100 / PER TWO-WEEK COURSE
Includes tuition, teaching materials, accommodation, meals, insurance, laundry, airport transfers, trips and activities
What are the payment terms?
An initial payment of £500 should be made to secure your booking, and the final payment is due at least five weeks before your summer camp starts.
Once paid, fees are non-refundable. Please refer to our Term and Conditions for more information.
Are there any extra fees?
Booking Changes: If you find the need to modify your booking, a £50 administrative fee will apply.
Arrival and Departure Transfers: Our published arrivals and departures are designed to optimise your experience. Should you arrive or depart outside our advertised transfer window, or to an airport other than Heathrow please be aware that transfer fees will apply as follows:
Luton/Stansted/Gatwick: £510 each way
Heathrow (out of transfer window): £410 each way
Bristol Airport: £120 each way
Bristol Train Station: £120 each way.
Arriving or departing directly to campus out of hours/not Sunday: £150
Unaccompanied Minors (arriving/departing outside of our transfer window): £50
Contact our team for more information.
Extra nights: £150 (subject to availability, transfer not included).
Weekend trips: £125 (days students or those attending the trip on arrival/departure day)
Group Horse Riding: £60 per hour lesson
How do I make a payment?
Once you book a place using our online booking form you will be sent an invoice with various payment options. Choose the option that works best for you.
TransferMate
TransferMate is free to use with no additional bank charges applied to your transfers. This service provides competitive currency exchange rates and allows you to pay in your preferred local currency. Please log in to our portal for more information and to make a payment using TransferMate.
TransferWise
TransferWise is a straightforward method for making international payments while minimising bank charges. To get started, follow these steps.
Visit www.transferwise.com
Log in or create a new account
Transfer funds from your bank account or debit/credit card to our designated account.
Bank Transfers
You can make a bank transfer to us. You will find our bank details on your invoice. When making any payment please ensure you quote the student's name and/or invoice number as a reference so we can trace your payment. Please allow for bank charges within your payment.
Credit Card Payments
Credit card payments can be made through our online portal. Sign into your account and click "checkout" to make the payment. You can also contact info@academiccamp.org for your unique payment link.
Insurance
We provide comprehensive insurance to students travelling to the UK from other countries as part of our fees. Insurance is provided by Endsleigh.
Please note that day students and students already living in the UK will not be covered by this policy.
The policy covers emergency medical costs and assistance; cancellation and curtailment; loss, theft or damage of personal belongings and cash.
Key Features
Cancellation or curtailment cover
Medical emergency cover including dental, medical, repatriation and a 24hr emergency helpline
Lost or stolen baggage
Lost or stolen money or passport
Missed departure
Reimbursement of irretrievable pre-paid course fees
Key Exclusions
No cover if FCO or WHO advises against travel
Travel must be to/from your home country
Not available to those aged 66+ at the time of departure
You must be registered with a GP in your home country
No cover for baggage left unattended
You must make us aware of any pre-existing medical condition
No cover if you fail to hold, obtain or produce a valid passport or visa in time for the trip
No cover for any claims arising from the use of drugs or alcohol
No cover for any reason set out under "Important conditions relating to health" in group policy wording.
Table of Benefits
The following table is a summary of cover. Group policy is subject to terms, conditions, limits and exclusions- please refer to the relevant section in the group policy wording for more details. The amounts set out below are the maximum payouts under each section per beneficiary per trip unless otherwise noted in the group policy wording.
Benefits
Maximum Amount
Excess

Cancellation or curtailment charges

Aggregate limit

Excursions

£3,000

£50,000

£250

£50

Emergency medical and other expenses

Emergency dental treatment

£2,000,000

£500

£50
Private medical cover
no cover

Personal accident

Death benefit (aged under 16)

Death benefit (aged 16 to 64)

ii. Loss of limbs or sight

iii. Permanet total disablement

£1,000

£30,000

£30,000

£30,000

£0

Baggage

Baggage (including valuables)

a) Single article, pair or set limit

b) Valuables limit in total

£1,000

£200

£300

£50

Personal money, passports and documents

1a) Currency, notes and coins

b) Other personal money and documents

2. Passport or visa

£100

£100

£500

£50
Personal liability
£1,000,000
£100
Missed departures
£250
£50

Overseas and legal assistance

Aggregate Limit

£10,000

£50,000

£0

Course fees

Professional counselling

£8,000

£300

£50
Please find details below:
You can find the translated policy summaries in the following languages: Arabic, French, German, Italian, Japanese, Polish, Portuguese, Simplified Chinese, Spanish, Thai, Traditional Chinese, Turkish, Vietnamese. Please take note that these summaries do not act as any of your legal binding documentation for the insurance, they are just a summary of what the cover includes.
All claims will be subject to a £50 excess.
Cancellation cover starts as soon as payment is received for course fees. All other cover starts as soon as you leave home for Academic Summer and ceases when you return home (please note if you do not return home immediately after your Academic Summer course you will not be covered for an extended stay).
For a fee, parents and group leaders travelling with their children can be added to the declaration. Please contact us for more information. info@academiccamp.org.
Endsleigh Insurances Services Limited is authorised and regulated by the Financial Conduct Authority. This can be checked on the Financial Services Register by visiting its website at HTTP://register.fca.org.uk/. Endsleigh Insurance Services Limited. Company No. 856706 registered in England at Shurdington Road, Cheltenham Spa, Gloucestershire GL51 4UE

How do I book?
Here is your step-by-step guide to making Academic Summer your reality:
Choose your programme, location and dates that align with your interests and schedule. Should you have any questions, our friendly admissions team is here to help.
Review the important details: Take a moment to carefully go through our terms and conditions. By signing the application form your indicating your agreement. Make sure you understand the programme you are signing up to.
Complete the booking form: Fill out our user-friendly online booking form, and don't forget to inform us about any medical or dietary concerns we should be aware of. Safety is our top priority. When you book a place you will create a log in to our portal where you can go back and add information later.
Reserve your place: It's time to make your initial payment of £500 to secure your spot. This will be offset against your total fees.
Request your visa letter: You can apply for your visa up to three months before the start of the course. We advise applying as early as possible. We will supply you with a letter to support your application.
Familiarise yourself with the parental portal: You can add any extra information about yourself, upload a photograph, and when the time comes, check out the student handbook, view your timetable and read your reports.
Customise your curriculum: Handpick your workshops or subjects based on your chosen programme.
Book your travel arrangements: Book your flights and add the details to the portal. We want to make your arrival seamless so please check our requirements for airport transfers before making any arrangements.
The countdown begins: Five weeks before your course, its time to make your final payment. We'll email you a reminder!
Take the English assessment: think of this as a friendly quiz to ensure we can communicate effectively and have a fantastic time together. Our teachers will use the results to plan their lessons with you in mind!
Verify everything: Log into the your online portal to confirm that you have sent us all the necessary documents and information.
Pack your bags: Consult our Student Handbook to make sure you've packed everything you need. And, of course, don't leave home without your sense of adventure!
Bon Voyage!
Airport Transfers
We provide airport transfers from London Heathrow Airport (LHR), which are included in your fees. Your flight should arrive or depart between 09.00 and 17.00 on our published arrival and departure days.
Bristol arrival dates:
Sunday 7 July 2024
Sunday 21 July 2024
Sunday 4 August 2024
Bristol departure dates:
Sunday 21 July 2024
Sunday 4 August 2024
Sunday 18 August 2024
If you arrive at school directly, please arrive between 15.00 and 17.00 on the arrival Sunday.
If you depart directly from school, please depart before 11.00 on the departure Sunday.
If you are meeting us at Heathrow please come to Arrivals Terminal 5 for 12:30pm
Arriving at times outside our transfer window
Our published arrivals and departures are designed to optimise your experience. Should you arrive or depart outside our advertised transfer window, or to an airport other than Heathrow please be aware that transfer fees will apply as follows:
Luton/Stansted/Gatwick: £510 each way
Heathrow (out of transfer window): £410 each way
Bristol Airport: £120 each way
Bristol Train Station: £120 each way.
Arriving or departing directly to campus out of hours/not Sunday: £150
Unaccompanied Minors (arriving/departing outside of our transfer window): £50
Contact our team for more information.
What is the school's address?
Sidcot School, Oakridge Lane, Winscombe, BS25 1PD
Visa information
If you are coming to the UK from another country to participate in our programmes, you may need to obtain a Visitor (Child) Visa.
You can check what type of visa you need here: https://www.gov.uk/check-uk-visa
Here's a step-by-step guide on how the admissions and visa process works:
Apply to Academic Summer
Complete a booking form www.academiccamp.org/book-now
To secure your please, make an initial payment of £500
Request a Visa Support Letter
Once we receive your initial payment, you can request a visa support letter from us. We will email this letter to you without charge. If you need an original visa support letter sent by courier (this is not a requirement of UKVA, they will accept electronic format), there will be a charge of £75.
Please carefully review the letter and ensure that all the details and information are correct.
Visa Application
You can check to see if you need a visa to enter the UK here: https://www.gov.uk/check-uk-visa
Even if you don't need a visa, you still need to bring the required documents, such as confirmation of your place at Academic Summer and financial evidence to prove you have paid for your course, to show the border officer.
Visa Application Timing
If you do need a visa, you can apply for a Visitor (Child) Visa up to three months before your planned travel date to the UK.
Visa processing typically takes about three weeks but you can check the guide processing times for specific information related to your country. It is best to apply as soon as you can because we cannot refund fees because you do not receive your visa on time.
Visa Support from Academic Summer
Academic Summer is accredited by the British Accreditation Council (BAC), allowing us to support your visa application.
We provide a visa support letter to international students which you should use when applying for your visa at a Visa Application Centre in your country.
If you are not familiar with the visa application process we strongly advise you enlist the support of an immigration specialist or Education Travel Agent in your country. Please contact us if you would like us to recommend someone.
For more information on Visitor (Child) Visas please visit: https://www.gov.uk/visa-to-study-english
Long-Term Study in the UK
Please note that Academic Summer is not a Tier 4 Sponsor and cannot issue CAS.
If you plan to study in the UK at a boarding school immediately after your Academic Summer Programme please let us know as you may be able to attend the course using your Tier 4 Child Student Visa sponsored by your future school.
We have many partner schools who can include the Academic Summer programme on your Confirmation of Acceptance for Studies (CAS) as a Pre-Sessional course. Your Tier 4 Child Student Visa will then be valid for both the Academic Summer course and your full-time studies in the independent boarding school.
Police Registration and BRP Collection
If you come to the UK on a Tier 4 Child Student Visa, you may need to register with the police if it is a visa condition (as indicated on your entry clearance vignette). Academic Summer staff will assist you with this process. A registration fee will apply.
Those staying in the UK for more than six months will receive a 30 day entry clearance vignette and must collect their Biometric Residence Permit (BRP) upon arrival. Academic Summer will coordinate with your boarding school to facilitate this process.
For more information on Tier 4 Child Student Visas, please visit: https://www.gov.uk/child-study-visa
What should my English level be?
Adventurers: A2
Explorers: B1
Engagers: B2
Remember to take your free CLIL test before arrival. You can log into the Portal for your unique test link.
What course is right for me?
12-year-olds: Adventurers or Explorers
Ask yourself:
Supervision: are you comfortable with your child having some independence, exploring various locations and enjoying free time without constant staff supervision?
Academic Confidence: is your child confident in a classroom setting?
Maturity: are they at ease around older students?
Experience: Are they already at secondary school or still at primary? Have they been to summer school before?
Engagers or Explorers?
Explorers is specifically designed to engage learners aged 12-14, to get them ready for what is yet to come.
Engagers is for students age 15+. Whether you are about to start your final year of GCSE or first year of A Levels / IB, then Engagers is the right programme for you. We extract core topics from the GCSE syllabus to ensure the programme is entirely relevant and stimulating. Having good knowledge in key GCSE topics will help you prepare for A Levels to ensure you have a strong foundation for the next stage. It will also help you to be better prepared for your final year of GCSE.
What about my free time?
We always have dedicated staff on duty, ensuring supervision during breaks, in the evenings and on weekends. Supervision is 24/7. Students are not allowed out without a member of staff in the evenings. During trips, you will have free time where you will be given space to explore with your camp-mates without staff present. There will always be a member of staff close by at a designated meeting point who is contactable by phone should you need them. Adventurers are never left unsupervised.
What is the nationality mix?
Last year we welcomed students from over 60 different nationalities to our programmes from countries including UK, Italy, France, Switzerland, Ghana, Canada, Japan, China, Ukraine, and many more!
WHAT DO PEOPLE SAY ABOUT US
The science is the best… every lesson is cool. Ms Snech is the best teacher. Maths is good too, we did magic tricks, we were looking for maths tricks with cards.
Georgi (10) Bulgaria
I loved the atmosphere. I thought i wouldn't find friends as I'm an introvert, but from the first week i made many friends. Activities are fun, you can play games, swim, hang out in the gardens. I want to come again…and stay for longer.
Hanna (14) Poland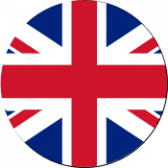 BOOK NOW
Please complete our online application form. You will receive a confirmation letter and invoice shortly after booking.