ACADEMIC SUMMER LONDON CITY
Let London Inspire Your Future Career: Where Learning Meets Opportunities
ABOUT THE PROGRAMME
This transformative summer experience results from a dynamic partnership between David Game College and Academic Summer. Here, visionary education and immersive experiences meet to create an extraordinary summer camp experience, right in the heart of the City of London.
Within our unique summer programme, you can explore exciting Career Pathways on our Academy of Medicine, Engineering, Law or Entrepreneurship. Alternatively, our trusted Engagers Programme will ensure you gain real-world skills and knowledge that will set you apart.
Nestled in the heart of London, our prime location provides unparalleled access to the bustling financial district, historic landmarks, and cultural treasures. Imagine exploring the ancient charm of the Tower of London, marvelling at the iconic architecture of St. Paul's Cathedral, or gaining invaluable industry exposure through our hands-on experiences.
When it comes to accommodation, you'll enjoy the utmost comfort in our state-of-the-art facilities. Rest easy in single rooms, providing the perfect space to relax after a day of exploration and learning.
Invest in your future with the enriching blend of visionary education, and immersive experiences, with the vibrant City of London as your backdrop.
LOCATION
London - City
Imagine waking up in the heart of the City of London, surrounded by centuries of history and modern marvels. Our partner school in the City of London is David Game College, and our state-of-the-art student residence is right next to the College. This is your opportunity to truly live and breathe the city, where history meets innovation.
We invite you to discover the vibrant heart of one of the world's most iconic metropolises. We are a two-minute walk from the Tower of London and a five-minute walk to the Bank of England. Nearby, the iconic Shard Skyscraper pierces the sky representing the city's dynamic nature. That is not all as you are also within walking distance to Borough Market, St Paul's Cathedral and the modern wonders of Tate Modern.
This amazing location is the hub of business and finance making it a perfect location to explore your future career. Immerse yourself in the energy of London, dive into its rich culture, and experience the City's unique blend of tradition and innovation. Our City location promises a summer filled with learning and an authentic taste of London life.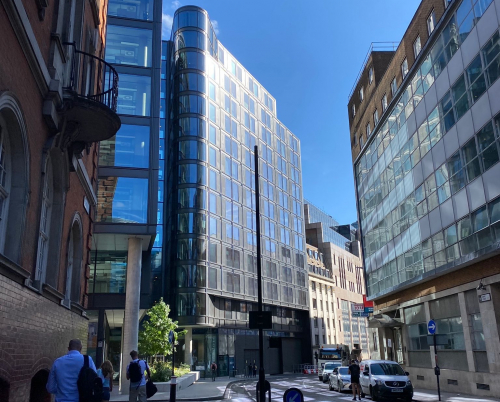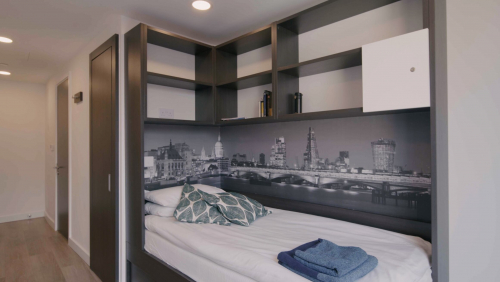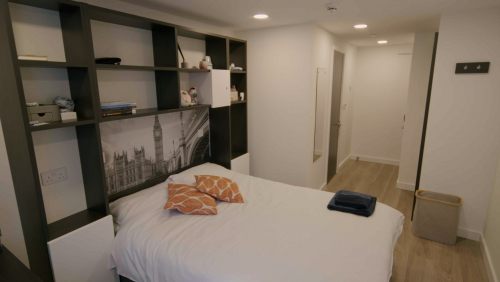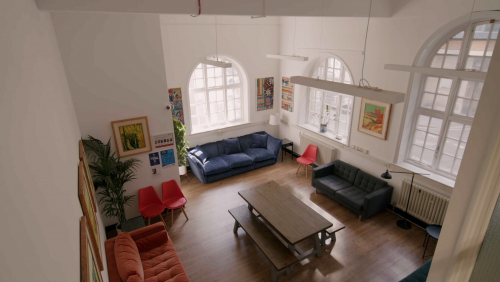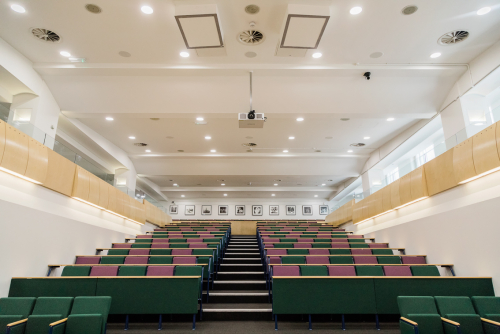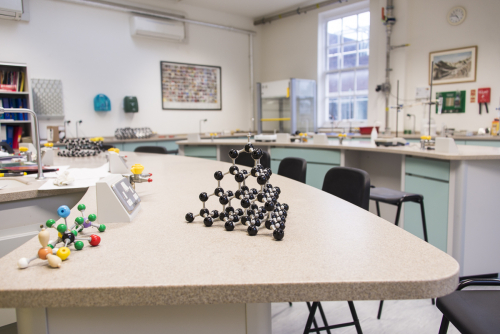 ACCOMMODATION
David Game College, London City
Historic charm and modern comfort: Enjoy the modern, state-of-the-art accommodation and be reminded of the city's history with parts of the Roman Wall of London running through the basement—an awe-inspiring reminder of the city's rich past.
David Game's first-class facilities enrich your learning experience. The college underwent a multi-million-pound refurbishment in 2017, boasting over 60 classrooms with interactive whiteboards, state-of-art Science Labs, a modern Lecture Theatre, an inviting Auditorium, Art Studies, Dance Studios and a canteen where you can indulge in a diverse menu of nutritious meals.
Choose from two room options:
Single standard room: Secure, lockable single bedrooms in two to three-bedroomed flats. Each flat shares a shower room and kitchen with one or two other students. The bedroom includes a desk, a comfortable double bed, a wardrobe and underfloor heating.
Ensuite rooms: Each lockable bedroom features a desk, a small double bed, ample storage and underfloor heating, and the room has its own shower room.

ACADEMIC
Supercharge your Future Career with David Game College and Academic Summer's Collaborative Summer School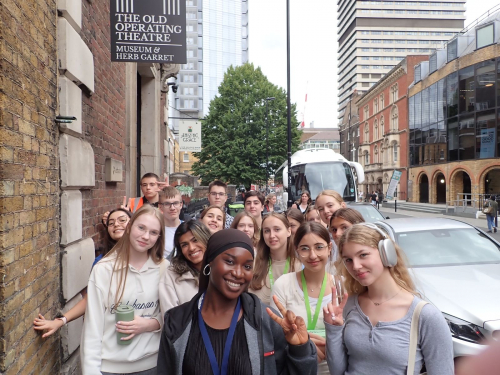 Career Pathway Programmes

David Game College and Academic Summer's Career Pathway programmes are designed to give you practical insights into your future career. You'll have an immersive industry experience, inspiring site and company visits, and career guidance to help you understand how to be successful in your chosen career.
Let us help you Get Ready for Medicine, Engineering, Law or Business and Enterprise. Join one of our Pathway Academy programmes.
The Facts
| | |
| --- | --- |
| Course Length | Two-weeks |
| Age | 14-17 |
| Minimum Level of English | B2 on the CEFR |
| Hours of Learning | 40 per week |
| Max Class Size | 12 |
Academy of Engineering
Get Ready for a Career in Engineering
As the global demand for skilled engineers skyrockets, we're here to equip you with core subject knowledge essential for a successful university engineering career. Our tutors will guide you through diverse engineering fields, helping you carve a clear path for the future.
Build core subject knowledge and insight across multiple fields of engineering - civil, mechanical, electrical and chemical
Study Maths and Physics related to Engineering concepts including algebra, integration and forces and motion building a strong foundation in key subjects
Learn to apply knowledge and skills through practical technology workshops
Develop leadership, team building, presentation, public speaking through our Da Vinci Project competition
Visit innovative engineering companies and learn about new technology
Consider environmental and sustainability challenges, as well as ethical issues
Visit Imperial College London
Final Showcase: Da Vinci Competition - this is team challenge and the emphasis is on developing your higher-order thinking skills, problem-solving and creativity.
Academy of Law
Get Ready for a Career in Law
The Academy of Law is for future lawyers, barristers and solicitors and we will introduce key legal concepts and the practice of Law. We'll help you develop logical and reasoning skills required to construct legal arguments in a courtroom.
Study with experts to discover the different fields of law - criminal, civil, corporate, human rights, international, family and more
Participate in debates on international legal issues such as climate change, conflict resolutions and world trade initiatives
Develop public speaking, presentation, debating and argumentative skills
Visit the Royal Courts of Justice and the Old Bailey so experience top lawyers in action
Consider specialist topics such as Human Rights and Cyberlaw
Join masterclass / lectures from top professionals
Final Showcase: Build a legal case, conduct opening and closing speeches, present evidence and prepare and cross-examine witnesses from the perspective of the prosecution and defence. Work in a team to apply these skills in a mock trial and courtroom simulation.
Academy of Medicine
Get Ready for Medicine
Becoming a medic is one of the most challenging but rewarding career paths anyone can choose. Our programme is tailor-made for aspiring medics. Engage in practical laboratory work, and explore infectious diseases, immunology, neuroscience and technology's role in medicine.
The course includes:
A whole-day clinical workshop with a doctor
Clinical workshops and scenarios
Biology and Chemistry practicals (including heart and lung dissections
Achieving Emergency First Aid qualification
Exploring and understanding medical ethics
Planning your Personal Statement and interview practice
Looking at UCAT and BMAT
Medical-related trips and a visit to a top UK medical school
The Final Assessment:
You will carry out a research project on a topic that interests you, and at the end of the course, you will present this to a panel of experts and your peers.
Academy of Business and Enterprise
Get Ready for Business and Enterprise Success
If you are a budding business leader or future entrepreneur, our course will introduce you to a career in the global business world. Our expert tutors will provide insight into what it is like to run a major corporation, lead a team across multiple geographies, bid for investment funds and run a profit-and-loss for a major companies
Learn the latest business management theory
Gain insights into the global economy and large corporations through real-life case studies
Learn about corporate social responsibility and how to run a sustainable business
Join Masterclasses / lectures form industry leaders
Take part in our negotiation workshop to develop strategies, tools and skills to succeed in business
Visit blue-chip companies to discover how marketing, production, pricing, and promotion combine into successful sales
Enterprise Challenge: Develop a business plan to create a successful business and pitch to a panel of experts.
The Subjects we're Offering in London City:
Engage deeper into A Level subjects and immerse yourself in your chosen fields. That's right you choose your subjects and we create your unique timetable around those choices. The subjects are:
Applied Mathematics
Art
Compter Science
Essay Writing
Presentations and Interviews
Psychology
Social Studies
Science
You will study four subjects per week, but we ask you to choose a couple more, so we can make sure you are aways in a class that interests YOU.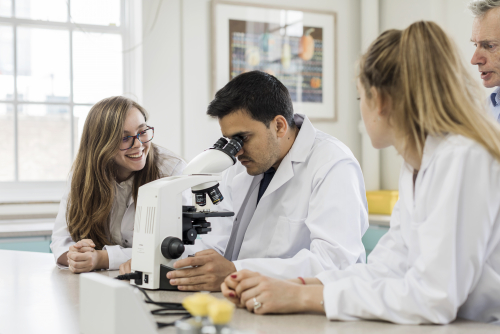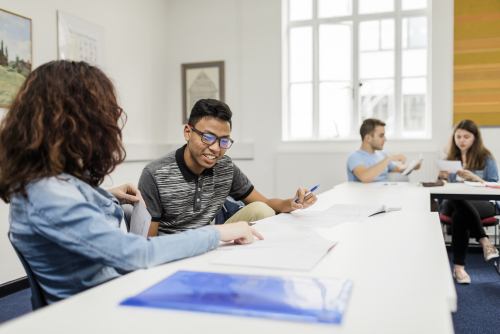 In your lessons, you will:
Get a strong foundation in key GCSE topics to give you a head start in A Levels
Improve your study skills
Experience the practical nature of the subject as well as the theory
Explore a range of different mediums and materials
Enjoy using modern technology
Explore a variety of cultures
Explore subjects in the context of their locality
Collaborate to help each other understand the challenging concepts and functions.
The Facts
| | |
| --- | --- |
| Length of Course | 2 to 4 weeks |
| Age | 14-17 |
| Minimum Level of English | B1 on the CEFR |
| Hours of Learning | 30 |
| Maximum Class Size | 15 |
CLIL APPROACH
Our teaching and learning approach is centred around Content and Language Integrated Learning (CLIL) which gives a holistic approach to learning. Experts have described CLIL as a significant methodological revolution in language teaching. 
According to Coyle (1999), the CLIL curriculum is based on the four Cs:
JOIN US AND UNLOCK THE BENEFITS OF CLIL:
Enhance your  Content  knowledge in key curriculum topic areas in your chosen subject areas
Develop your  Cognition  skills. You'll develop your critical, logical and creative thinking abilities, as well as learn to analyse data, engage in discussions, form your own opinions and collaborate effectively
Work on your  Communication  skills. You use language to learn whilst learning to use language. You will learn to give a good presentation and write an extended essay, which is essential whatever you study
Understand  Culture  and your role as a global citizen, your beliefs and values enabling you to develop a reflective knowledge base  
You will develop your communicative use of English as an international language and academic language proficiency, whether you are a native or non-native speaker of English.  
Leisure Programme 2024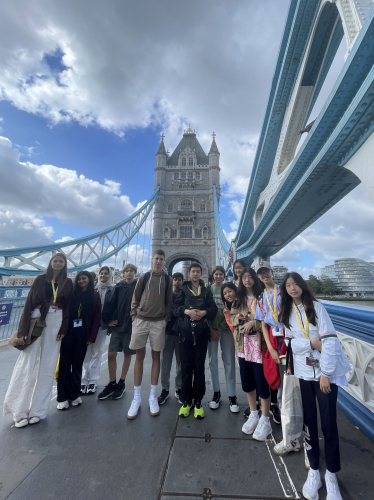 Experience an unforgettable summer filled with excitement, learning and adventure; we've got the location so that we will make the most of it! The leisure programme is designed not only to enhance your academic skills and prepare you for the future but also to offer you the opportunity to forge new friendships, boost your confidence and have a blast exploring this vibrant city every afternoon.
Imagine… immersing yourself in the City of London's rich history and culture, surrounded by iconic landmarks and cultural hotspots. From exploring historic sites such as the Tower of London to delving into contemporary wonders in the City, this camp promises a thrilling journey of discovery.
We're dedicated to making your summer truly extraordinary with a leisure programme brimming with unique and exhilarating excursions that will take you on adventures both within London and beyond. At the weekend, you'll have the chance to see more of England and soak in its unique charm during our weekend trips to Oxford, Windsor, Brighton and Cambridge.
For those enrolled on our Career Pathways, the experience is tailor-made to your interests and ambitions. You'll embark on specialised trips related to your chosen pathway, including exciting visits to prestigious universities.
Prepare to be amazed by the perfect blend of fun, education and adventure. Don't miss out on this incredible opportunity to create memories that will last a lifetime! Book today!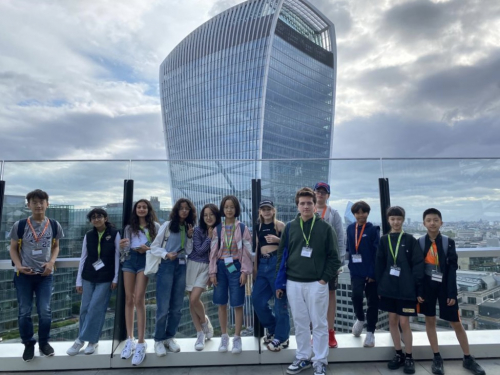 Be a Leader is an integral part of Academic Summer, offering an enriching blend of the academic and leisure. The two-week course equips you with leadership and teamwork skills in an exciting, enjoyable and educational environment leading to a CPD qualification for your CV. CPD stands for Continuous Professional Development, showing our unwavering commitment to excellence.
Throughout the programme, you'll have the chance to Meet a Leader - accomplished individuals from diverse fields who share their personal journeys to success, inspiring your own dreams. Be a Leader facilitates self-discovery by assessing your skills, through psychometric, aptitude and career tests, resulting in a personalised 'My Career Choice' report to guide your future decisions.
Your daily routine includes exploring essential leadership skills such as communication, negotiation, change-management, influence and confidence. These are introduced in morning assemblies and then developed through practical application with your teachers and camp counsellors. The programme seamlessly integrates into your Career Pathway, ensuring you are on the right career track and providing guidance for your future success through workshops, team building and challenges on your afternoon London trips.
ENGAGERS
Age 14-17
Sunday 30 June to Sunday 28 July 2024
£3,700 / PER TWO-WEEK COURSE FOR A STANDARD ROOM
£3,900 / PER TWO-WEEK COURSE FOR AN ENSUITE ROOM
Includes tuition, teaching materials, accommodation, meals, insurance, airport transfers and all trips and activities
CAREER PATHWAYS
Age 14-17
Sunday 30 June to Sunday 28 July 2024
£4,300 / PER TWO-WEEK COURSE FOR A STANDARD ROOM
£4,500 / PER TWO-WEEK COURSE FOR A ENSUITE ROOM
Includes tuition, teaching materials, accommodation, meals, insurance, airport transfers and trips and activities
What are the payment terms?
An initial payment of £500 should be made to secure your booking, and the final payment is due at least five weeks before your summer camp starts.
Once paid, fees are non-refundable. Please refer to our Term and Conditions for more information.
Are there any extra fees?
Booking Changes: If you find the need to modify your booking, a £50 administrative fee will apply.
Arrival and Departure Transfers: Our published arrivals and departures are designed to optimise your experience. Should you arrive or depart outside our advertised transfer window, or to an airport other than Heathrow please be aware that transfer fees will apply as follows:
Luton/Stansted: £260 each way
Eurostar/ Kingscross: £180 each way
City Airport: £140 each way
Gatwick: £220 each way
Heathrow (outside of the transfer window): £190 each way
Arriving or departing directly to campus out of hours/not Sunday: £150
Unaccompanied Minors (arriving/departing outside of our transfer window): £50
Contact our team for more information.
Extra nights: £150 (subject to availability, transfer not included).
Weekend trips: £125 (days students or those attending the trip on arrival/departure day)
How do I make a payment?
Once you book a place using our online booking form you will be sent an invoice with various payment options. Choose the option that works best for you.
TransferMate
TransferMate is free to use with no additional bank charges applied to your transfers. This service provides competitive currency exchange rates and allows you to pay in your preferred local currency. Please log in to our portal for more information and to make a payment using TransferMate.
TransferWise
TransferWise is a straightforward method for making international payments while minimising bank charges. To get started, follow these steps.
Visit www.transferwise.com
Log in or create a new account
Transfer funds from your bank account or debit/credit card to our designated account.
Bank Transfers
You can make a bank transfer to us. You will find our bank details on your invoice. When making any payment please ensure you quote the student's name and/or invoice number as a reference so we can trace your payment. Please allow for bank charges within your payment.
Credit Card Payments
Credit card payments can be made through our online portal. Sign into your account and click "checkout" to make the payment. You can also contact info@academiccamp.org for your unique payment link.
Insurance
We provide comprehensive insurance to students travelling to the UK from other countries as part of our fees. Insurance is provided by Endsleigh.
Please note that day students and students already living in the UK will not be covered by this policy.
The policy covers emergency medical costs and assistance; cancellation and curtailment; loss, theft or damage of personal belongings and cash.
Key Features
Cancellation or curtailment cover
Medical emergency cover including dental, medical, repatriation and a 24hr emergency helpline
Lost or stolen baggage
Lost or stolen money or passport
Missed departure
Reimbursement of irretrievable pre-paid course fees
Key Exclusions
No cover if FCO or WHO advises against travel
Travel must be to/from your home country
Not available to those aged 66+ at the time of departure
You must be registered with a GP in your home country
No cover for baggage left unattended
You must make us aware of any pre-existing medical condition
No cover if you fail to hold, obtain or produce a valid passport or visa in time for the trip
No cover for any claims arising from the use of drugs or alcohol
No cover for any reason set out under "Important conditions relating to health" in group policy wording.
Table of Benefits
The following table is a summary of cover. Group policy is subject to terms, conditions, limits and exclusions- please refer to the relevant section in the group policy wording for more details. The amounts set out below are the maximum payouts under each section per beneficiary per trip unless otherwise noted in the group policy wording.
Benefits
Maximum Amount
Excess

Cancellation or curtailment charges

Aggregate limit

Excursions

£3,000

£50,000

£250

£50

Emergency medical and other expenses

Emergency dental treatment

£2,000,000

£500

£50
Private medical cover
no cover

Personal accident

Death benefit (aged under 16)

Death benefit (aged 16 to 64)

ii. Loss of limbs or sight

iii. Permanet total disablement

£1,000

£30,000

£30,000

£30,000

£0

Baggage

Baggage (including valuables)

a) Single article, pair or set limit

b) Valuables limit in total

£1,000

£200

£300

£50

Personal money, passports and documents

1a) Currency, notes and coins

b) Other personal money and documents

2. Passport or visa

£100

£100

£500

£50
Personal liability
£1,000,000
£100
Missed departures
£250
£50

Overseas and legal assistance

Aggregate Limit

£10,000

£50,000

£0

Course fees

Professional counselling

£8,000

£300

£50
Please find details below:
You can find the translated policy summaries in the following languages: Arabic, French, German, Italian, Japanese, Polish, Portuguese, Simplified Chinese, Spanish, Thai, Traditional Chinese, Turkish, and Vietnamese. Please take note that these summaries do not act as any of your legally binding documentation for the insurance, they are just a summary of what the cover includes.
All claims will be subject to a £50 excess.
Cancellation cover starts as soon as payment is received for course fees. All other cover starts as soon as you leave home for Academic Summer and ceases when you return home (please note if you do not return home immediately after your Academic Summer course you will not be covered for an extended stay).
For a fee, parents and group leaders travelling with their children can be added to the declaration. Please contact us for more information. info@academiccamp.org.
Endsleigh Insurances Services Limited is authorised and regulated by the Financial Conduct Authority. This can be checked on the Financial Services Register by visiting its website at http://register.fca.org.uk/. Endsleigh Insurance Services Limited. Company No. 856706 registered in England at Shurdington Road, Cheltenham Spa, Gloucestershire GL51 4UE

Can I come as a day student?
Yes, you can come Monday-Friday, 8:30- 18:00. The cost is £875 per week for the Engager programme. Fees include teaching, teaching materials, lunch and trips.
If you wish to join a Career Pathway programme as a day student, the fees are £2500 for the two-week course. You need to join the whole course.
If you want to join us on weekend trips, the cost is £125 per trip.
How do I book?
Here is your step-by-step guide to making Academic Summer your reality:
Choose your programme, location and dates that align with your interests and schedule. Should you have any questions, our friendly admissions team is here to help.
Review the important details: Take a moment to carefully go through our terms and conditions. By signing the application form your indicating your agreement. Make sure you understand the programme you are signing up to.
Complete the booking form: Fill out our user-friendly online booking form, and don't forget to inform us about any medical or dietary concerns we should be aware of. Safety is our top priority. When you book a place you will create a log in to our portal where you can go back and add information later.
Reserve your place: It's time to make your initial payment of £500 to secure your spot. This will be offset against your total fees.
Request your visa letter: You can apply for your visa up to three months before the start of the course. We advise applying as early as possible. We will supply you with a letter to support your application.
Familiarise yourself with the parental portal: You can add any extra information about yourself, upload a photograph, and when the time comes, check out the student handbook, view your timetable and read your reports.
Customise your curriculum: Handpick your workshops or subjects based on your chosen programme.
Book your travel arrangements: Book your flights and add the details to the portal. We want to make your arrival seamless so please check our requirements for airport transfers before making any arrangements.
The countdown begins: Five weeks before your course, its time to make your final payment. We'll email you a reminder!
Take the English assessment: think of this as a friendly quiz to ensure we can communicate effectively and have a fantastic time together. Our teachers will use the results to plan their lessons with you in mind!
Verify everything: Log into the your online portal to confirm that you have sent us all the necessary documents and information.
Pack your bags: Consult our Student Handbook to make sure you've packed everything you need. And, of course, don't leave home without your sense of adventure!
Bon Voyage!
Airport Transfers
We provide airport transfers from London Heathrow Airport (LHR), which are included in your fees. Your flight should arrive or depart between 09.00 and 17.00 on our published arrival and departure days.
London arrival dates:
Sunday 30 June 2024
Sunday 14 July 2024
London departure dates:
Sunday 14 July 2024
Sunday 28 July 2024
If you arrive at school directly, please arrive between 15.00 and 17.00 on the arrival Sunday.
If you depart directly from school, please depart before 11.00 on the departure Sunday.
If you are meeting us at the airport please come to Heathrow, Terminal 5 at 12:30pm.
Arriving at times outside our transfer window
Our published arrivals and departures are designed to optimise your experience. Should you arrive or depart outside our advertised transfer window, or to an airport other than Heathrow please be aware that transfer fees will apply as follows:
Luton/Stansted: £260 each way
Eurostar/ Kingscross: £180 each way
City Airport: £140 each way
Gatwick: £220 each way
Heathrow (outside of the transfer window): £190 each way
Arriving or departing directly to campus out of hours/not Sunday: £150
Unaccompanied Minors (arriving/departing outside of our transfer window): £50
Contact our team for more information.
What's the schools address?
David Game College, 31 Jewry Street, London, EC3N 2ET
Visa information
If you are coming to the UK from another country to participate in our programmes, you may need to obtain a Visitor (Child) Visa.
You can check what type of visa you need here: https://www.gov.uk/check-uk-visa
Here's a step-by-step guide on how the admissions and visa process works:
Apply to Academic Summer
Complete a booking form www.academiccamp.org/book-now
To secure your please, make an initial payment of £500
Request a Visa Support Letter
Once we receive your initial payment, you can request a visa support letter from us. We will email this letter to you without charge. If you need an original visa support letter sent by courier (this is not a requirement of UKVA, they will accept electronic format), there will be a charge of £75.
Please carefully review the letter and ensure that all the details and information are correct.
Visa Application
You can check to see if you need a visa to enter the UK here: https://www.gov.uk/check-uk-visa
Even if you don't need a visa, you still need to bring the required documents, such as confirmation of your place at Academic Summer and financial evidence to prove you have paid for your course, to show the border officer.
Visa Application Timing
If you do need a visa, you can apply for a Visitor (Child) Visa up to three months before your planned travel date to the UK.
Visa processing typically takes about three weeks but you can check the guide processing times for specific information related to your country. It is best to apply as soon as you can because we cannot refund fees because you do not receive your visa on time.
Visa Support from Academic Summer
Academic Summer is accredited by the British Accreditation Council (BAC), allowing us to support your visa application.
We provide a visa support letter to international students which you should use when applying for your visa at a Visa Application Centre in your country.
If you are not familiar with the visa application process we strongly advise you enlist the support of an immigration specialist or Education Travel Agent in your country. Please contact us if you would like us to recommend someone.
For more information on Visitor (Child) Visas please visit: https://www.gov.uk/visa-to-study-english
Long-Term Study in the UK
Please note that Academic Summer is not a Tier 4 Sponsor and cannot issue CAS.
If you plan to study in the UK at a boarding school immediately after your Academic Summer Programme please let us know as you may be able to attend the course using your Tier 4 Child Student Visa sponsored by your future school.
We have many partner schools who can include the Academic Summer programme on your Confirmation of Acceptance for Studies (CAS) as a Pre-Sessional course. Your Tier 4 Child Student Visa will then be valid for both the Academic Summer course and your full-time studies in the independent boarding school.
Police Registration and BRP Collection
If you come to the UK on a Tier 4 Child Student Visa, you may need to register with the police if it is a visa condition (as indicated on your entry clearance vignette). Academic Summer staff will assist you with this process. A registration fee will apply.
Those staying in the UK for more than six months will receive a 30 day entry clearance vignette and must collect their Biometric Residence Permit (BRP) upon arrival. Academic Summer will coordinate with your boarding school to facilitate this process.
For more information on Tier 4 Child Student Visas, please visit: https://www.gov.uk/child-study-visa
What should my English Level be?
Engagers: B1
Career Pathways: B2
Remember to take your free CLIL test before arrival. You can log into the Portal for your unique test link.
What about my free time?
We always have dedicated staff on duty, ensuring supervision during breaks, in the evenings and on weekends. Supervision is 24/7. Students are not allowed out without a member of staff in the evenings. During trips, you will have free time where you will be given space to explore with your camp-mates without staff present. There will always be a member of staff close by at a designated meeting point who is contactable by phone should you need them.
What's the nationality mix?
Last year we welcomed students from over 60 different nationalities to our programmes from countries including UK, Italy, France, Switzerland, Ghana, Canada, Japan, China, Ukraine, and many more!
WHAT DO PEOPLE SAY ABOUT US
I absolutely loved the course! Nice lessons, so much content in just two weeks! The teachers Shruti and Suru were the best teachers ever. I hope anyone that does this course has the opportunity to have lessons with them. It's the perfect course for students that want to identify if Med school is or isn't for them.
Luiza, (17) Brazil
The first thing I loved about this camp is how friendly it is and how we all feel like a family. When I arrived, I was a little bit nervous, because I wasn't sure. One week in I started falling in love with the camp, how good and trained the staff are, the counsellors, how nice they are to everyone and how amazing the people are here, even though we're from different backgrounds and cultures we're all like a family
Hadia, (18) Afghanistan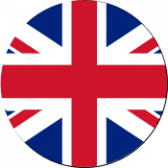 BOOK NOW
Please complete our online application form. You will receive a confirmation letter and invoice shortly after booking.