ACADEMIC CAMP HOLIDAYS, TAUNTON
Where Fun Meets Knowledge: Redefine Your Holidays!
About the Programme
Discover a diverse range of engaging activities that allow you to unwind after a demanding term while simultaneously challenging yourself to develop new skills. Our Holiday camps cater to local day students aged 9 to 16 and international boarding students aged 12 to 18.
Join us during half-term holidays (October, February and May) or Easter and experience the enchantment of Queen's College, a prestigious and forward-thinking boarding school in Taunton.
Our engaging and enriching academic camps are designed to inspire and challenge young minds, helping them discover new passions, sharpen their skills, make friends from all over the world and develop communicative language skills.
Each holiday, we offer a choice of academic camps, taking place from Monday to Thursday for our local day students, including Academic Skills, Art and Design, Business and Entrepreneurship, Debate and Model UN, English, Food and Nutrition, Outdoor Leaders, Performing Arts and STEAM. Join us for a transformative and enriching holiday experience!
LOCATION
Join us in the holidays at Queen's College, Taunton. Discover a traditional boarding school that feels like you have entered a 'Harry Potter' film set. Everything you need is on campus: modern classrooms, outstanding sports facilities, and comfortable boarding houses. The school has an impressive theatre, tennis courts, a sports hall, a gym, an indoor swimming pool, astroturf pitches and a climbing room.
Taunton is a charming market town in the beautiful southwest of England and is famous for its rich cricket heritage. To the west, you'll find the historic city of Exeter, known for its stunning cathedral and Roman history. To the East is the vibrant city of Bristol, with the iconic Clifton Suspension Suspension and an excellent place for some shopping during the holidays. The best part is London is just a 90-minute train ride from the centre of Taunton, making the capital easy to reach.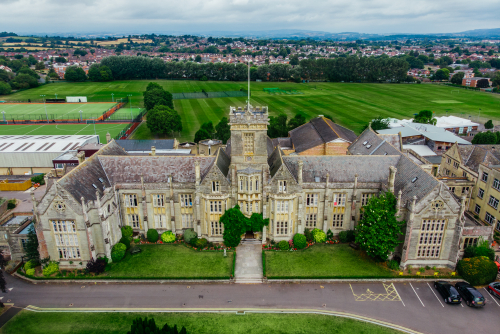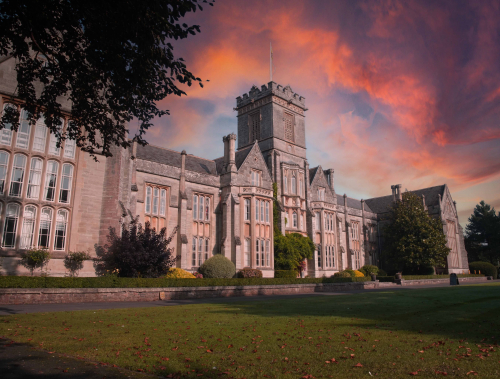 BOARDING
We extend a warm welcome to boarders during the holidays. This is for students aged 12-18 who are seeking an exceptional holiday experience. Our comfortable boarding houses feature shared bedrooms, common rooms and well-equipped kitchens, ensuring a homely atmosphere. We want you to feel part of our family during the holidays, and a place to relax and chill out after a busy term.
Boarding includes full board in our school dining room, but there is also the occasional meal out in a restaurant when we are on a weekend trip, a takeaway or if our Foodie Camp takes charge, we may become tasters or judges of what they have prepared!
Whether you're a boarding student already in the UK who wants to join us for your holidays, or you require an extra night or day to work with your travel arrangements, or you're an international student wanting a short course to get a taste of boarding, or you just fancy doing something difference, then Academic Camp Holidays offers a memorable holiday for you.
The Weekly Schedule - Monday to Thursday
| TIME | WHAT IS HAPPENING? |
| --- | --- |
| 8.00 | Breakfast in Boarding (optional if you want a lie in) |
| 8.15 | Local Day Students - arrival (drop off main entrance) |
| 9.00 | Fit, Fun and Fabulous: Exploring the world of creativity and teamwork |
| 10.30 | Break |
| 11.00 | Morning Camp Session |
| 13.00 | Lunch |
| 14.00 | Afternoon Camp Session |
| 16.00 | Camp Team Games: Unleashing Fun and Friendship |
| 17.00 | Local Day Students - departure (pick up main entrance) / Chill out time for the Boarders |
| 18.00 | Dinner |
| 19.00 | Free time on Campus / Gym and Sports Hall |
| 22.00 | Time to Get Ready for Bed (you must be in your own rooms and quiet by 23.00) |
Fridays, Saturdays and Sundays!
During your holidays we offer full-day exciting trips on Fridays and Sundays ensuring you get a great taste of the beautiful South West of England. Each holiday you will get a chance to visit London as it is just a 90 minute train ride from Taunton.
Saturdays is your free day - your chance to chill out and relax.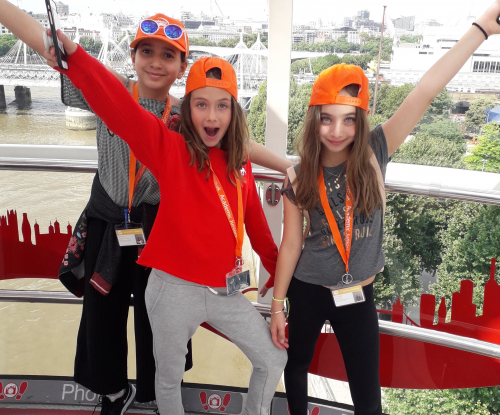 LOCAL DAY STUDENTS
Discover an exciting way for local day students age 9-16 (years 4 to 12), to make the most out of their school holidays. Our engaging camps are thoughtfully designed to spark inspiration and provide a dynamic challenge. Whether it's the spooky allure of Halloween during October half-term, the romantic vibes of Valentine's Day in February half-term, or Easter egg hunts or the need for dedicated exam revision during the Easter holidays; our holidays camps are promise enjoyment and provide a unique chance to explore new passions, learn new skills and explore different cultures. We also run throughout the summer.
We understand that during the holidays, parents want the assurance of meaningful, safe and supervised activities for their children. That's why our Child Care option for the holidays provides that peace of mind. We offer flexibility so you can book for one day, a couple days or the whole week. Each day is a new day of learning with an outcome.
We offer a choice of camps that take place Monday to Thursday and include camps such as Adventure, Art and Design, Performing Arts and STEAM, as well as themed options. Plus, there is the opportunity for our local students to finish their week with us by joining our Friday trips, providing extra time to enjoy their new friends.
LEARNING
Enjoy a Learning Adventure During the Holidays: Where Fun Meets Knowledge
Learning should be dynamic and engaging, and we are committed to breaking away from the traditional classroom setting. We understand that you are looking for something different after a busy school term. Our holiday approach is centred around fun, challenge and personal growth. We believe in the power of trying new things, working as a team and gaining practical skills that will be good for your future. Let's embrace imagination, foster creativity, stay active, and embark on exciting journeys during the holidays while creating memories and making great friendships. We want to ensure your holiday is enriching and enjoyable.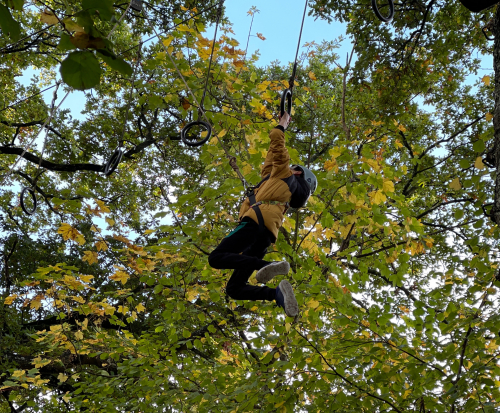 Redefine Your Holidays!
Enriching Learning Environment: Our camps are crafted to ignite a passion for learning. Through interactive and hands-on activities, we provide an environment where creativity is unleashed
Challenging: We offer camps that push boundaries and encourage you to try something new
A Global Community: By collaborating with locals and students from all over the world, you will gain cultural insights and develop teamwork and communication skills
Dedicated Saff: Our staff team are passionate about inspiring you, and most importantly, they want you to have a great time in your holidays
Examples of the Camps we Offer:
Adventure Camp
Get ready for the ultimate adventure. We've covered everything from team sports and challenging climbing sessions to mastering bushcraft skills, survival techniques and boosting fitness levels. Our campers will embrace the great outdoors and build resilience, teamwork, and self-confidence while facing challenges. Join us for a week of unforgettable experience where the spirit of adventure knows no bounds and lifelong skills are learned
Art and Design Camp
Art is a blast in education and a great way to express yourself, boosting your cognitive, and social perceptual skills, confidence, problem-solving, and team collaboration. Join our Art and Design camp to explore various art mediums and unleash creativity—experiment with mediums such as textiles, sketching, 3D, and painting. During the camp there are exciting workshops and even visits from local artists, so a truly unforgettable artistic adventure!
Academic Skills Camps
Sharpen your critical thinking, essay writing, revision and exam techniques, presentation and interview abilities. Cultivate the power to analyse, express and impress as you enhance your academic prowess. Whether crafting compelling essays, answers to exam questions, delivering captivating presentations or acing interviews, this camp will empower you with essential skills for success. As well as in the summer, this camp is normally offered during the Easter holiday to help students during the exam season. Elevate your academic journey with us!
Food and Nutrition - the Foodie!
Join us at the Food and Nutrition Camp, designed for young food enthusiasts! Get ready to tantalize your taste buds and unleash your culinary creativity. This exciting culinary journey not only focuses on the joy of well-being but also delves into the world of healthy eating habits, crafting scrumptious dishes, unravelling the science of cooking and mastering the art of baking. Campers embark on a flavourful adventure, exploring different cuisines and even participating in friendly cooking competitions. It's a week-long celebration of savouring and sizzling, where every bite brings together food, fun and friendship.
Performing Arts Camp
You'll engage in your artistic and imaginative side. The camp is perfect for those with a passion for all aspects of Art performance, including acting, dancing, singing, public speaking and presentation skills and group performance. It offers a creative avenue to discover your creativity and cultivate your self-expression. This opportunity is great for honing your language and performance skills; broadening your academic knowledge in the Arts.
STEAM Camp
The STEAM camp is perfect for learning about how the world works. This camp is excellent for budding engineers, software designers, or anyone interested in the exciting areas of STEAM (Science, Technology, Engineering, Arts and Mathematics). You'll gain practical experience through hands-on learning and problem-solving. You'll learn about AI, programming, robotics, architecture, mechanics, technology and much more. Join us and develop your skills to be our future innovators!
Themed Camps
We offer camps to get into the spirit of seasonal festivals when these fall in the school holidays. Whether Halloween, Valentine's Day or Easter, our camps are about embracing the topical, fostering teamwork, and exploring the cultural differences in a vibrant and fun-filled setting. You can expect a epic celebration, complete with parties, games and lots of laughter. Enjoy themed activities, crafts, and delectable treats that capture the essence of the festival. A great way to infuse your holidays with the fun and excitement of these special occasions.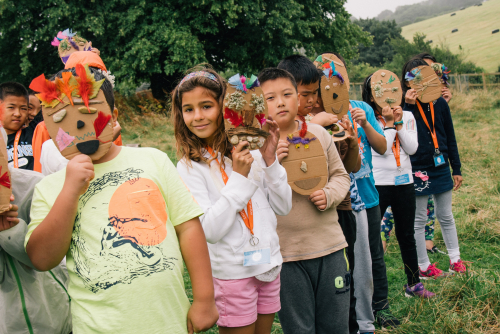 As the leaves change colour and Halloween is nearly upon us, we're thrilled to offer you a week of excitement and exploration during the upcoming October half-term holidays. Our camp promises a perfect blend of outdoor adventures, creative activities and opportunities to make new friends in a safe and nurturing environment. Join us for a memorable journey where you can discover, learn and have fun.
October 2023 Camps
Week One
Week Two

The Arts Camp

Adventure Camp

The Foodie Camp

Halloween Camp
Week 1: Monday 23 to Thursday 26th October
| | Monday | Tuesday | Wednesday | Thursday |
| --- | --- | --- | --- | --- |
| Art Camp | Performing Arts | Public Speaking and Presentations | Enjoy your Artistic Side | Graffiti Workshop |
| Adventure Camp | Team multi-sports | Bush Crafts and Survival Skills | Keep Fit and Look After Yourself | Be Challenged Graffiti Workshop |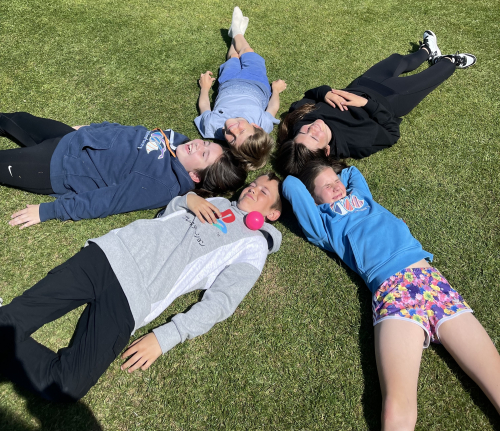 Week 2: Monday 30 October to Thursday 2 November
During week 2, our Halloween and Foodie enthusiasts will come together to experience a blend of exhilarating activities that promise the best of both worlds. For the Foodie's amongst you, Halloween provides a fantastic theme to inspire your cooking ideas. Engage in pumpkin carving and delve into Amercian Halloween traditions while also compaing cultures when talking about spooky and eerie side of Halloween. As an exciting highlight, you'll collaboratively plan delectable lunches, involving planning the menu, shopping for ingredients, enjoying the joy of cooking and the thrill of teamwork. It is a perfect receipt for a memorable holiday experience, celebrating creatively, culture and the spirit of working together.
| | Monday | Tuesday | Wednesday | Thursday |
| --- | --- | --- | --- | --- |
| The Foodie Camp | Planning a Menu / Healthy Eating | Designing a Halloween Meal | Baking and Desserts Day | Cooking Competition and Tasting |
| Halloween Camp | Scavenger Hunt and Halloween Stories | Creepy-Crawly Exploration and Pumpkin Carving | Navigation and Orienteering | Be Challenged |
CLIL APPROACH
Our teaching and learning approach is centred around Content and Language Integrated Learning (CLIL) which gives a holistic approach to learning. According to Coyle (1999), the CLIL is based on the four Cs:
JOIN US AND UNLOCK THE BENEFITS OF CLIL:
Enhance your  Content  knowledge
Develop your  Cognition  skills - your thinking and learning
Improve your  Communication  skills in language
Understand  Culture  and your role as a global citizen 
LEISURE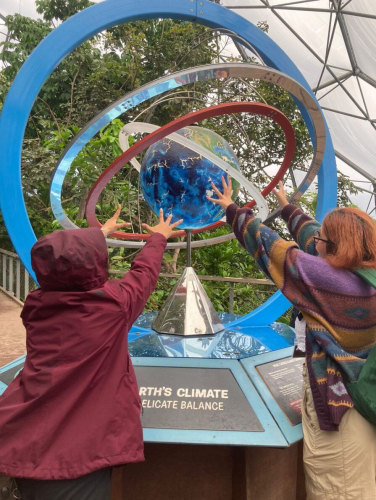 Academic Camp Holidays promises the perfect blend of learning and leisure. We believe in crafting a unique experience to give you the break you deserve.
From Monday to Thursday, your days will be filled with a range of engaging and enjoyable activities and team games right on campus. Our expert instructors and camp counsellors will lead you through captivating lessons, interactive workshops and exciting challenges that will expand your knowledge and ignite your curiosity.
When Friday rolls around, get ready for an adventure pack weekend, which will take you to some of the most iconic destinations in the region, such as Eden Project, Exeter Bristol and Plymouth. For thrill-seekers, test your mettle with surfing at Saunton Sands in North Devon and water sports at Wake Park.
Every half term, we have a special treat for you - a trip to London! Dive into the world of culture and history as you explore the world-famous museums, indulge in some shopping in Oxford Street and take a stroll along the Southbank, taking in some of the famous sights.
We'll also have plenty of low-key moments where we'll venture into Taunton or neighbouring cities and enjoy a meal out or maybe catch a movie at the cinema, play a round of golf or have some friendly competition with ten-pin bowling.
At Academic Camp Holidays, we believe in creating a balanced and enriching experience that combines education with adventure. Secure your spot today and embark on a break from school that promises growth, fun and lifelong memories.
BOARDING STUDENTS
Age 12-18
Friday 20 October to Sunday 5 November 2023
Friday 9 February to Sunday 18 February 2024
Wednesday 27 March to Monday 15 April 2024
Friday 24 May to Sunday 2 June 2024
£125 / PER NIGHT
Includes tuition, teaching materials, accommodation, meals, trips and activities
DAY STUDENTS
Age 9+
Mon 23 October to Thurs 2 November 2023
Monday 12 to Thursday 15 February 2024
Monday 1 April to Thursday 11 April 2024
Monday 27 May to Thursday 30 May 2024
£40 / PER DAY (£125 PER FRIDAY TRIP)
Monday to Thursdays (08.15 to 17.00) and includes a choice of camps and lunch
To book, please complete our online application form, and you will receive a confirmation letter and an invoice after booking
Payment details are on your invoice and full payment is due to secure the place on our course
Day Students
You can book per day - a couple of days or a whole week
Flexible child care during the holidays
Camps run from Monday to Thursday each week
Full day: 8.15 drop off and 17.00 pick up (main entrance)
Option to join Friday trips to places like Eden Project or London
Boarding Students
Boarding students can arrive on Friday evenings from 17.00 during the half-term holidays
You can book per night, so you have full flexibility for your holidays
We are happy to arrange transfers from a UK airport or your boarding school in the UK (charged as extra)
WHAT DO PEOPLE SAY ABOUT US?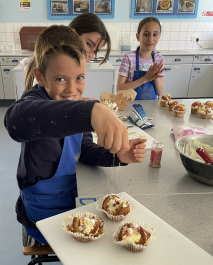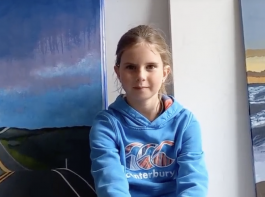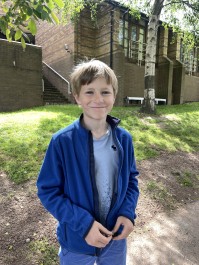 I loved playing volleyball with Mr Bishop and the workshops with Nadia and Bohdana. I also liked making cupcakes with the teachers. I've enjoyed meeting new people and making friends. I've enjoyed meeting the teachers too! I thought the camp games with everyone were so much fun!
Matthew (9) UK
I've learnt a lot about drama skills, I've learnt new, fun games and now I can draw a maze which I learnt to do in art, I found it very interesting. I am very happy. I've liked camp a lot.
Imogen (10) UK
I like my new friends. I enjoyed learning how to make a maze and making a song with a come. I've loved playing games, it was fun.
Ernest (9) UK
The best is getting to eat after the activities. The food is amazing!! I learnt lots of different things and had a lot of fun with new people. I loved the climbing and archery. My favourite moment was when we played hide and seek.
Clemence (12) France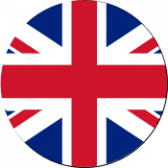 BOOK NOW
Please complete our online application form. You will receive a confirmation letter and invoice shortly after booking.